Quick Dish Quarantine: YOUR LATE NIGHT SHOW with DANIELLE PEREZ This Friday on The Nowhere Comedy Zoom
2021 is changing things up as Your Late Night Show Tonight brings a very special Brunch-themed event to the Nowhere Comedy Zoom domain. This Friday January 15th, comedian, actor, and writer Danielle Perez will host the delicious late-night show with a twist welcoming
Daily Show Correspondent, Dulce Sloan
Legal eagle comedian Guy Branum
& RuPaul's Drag Race's Meatball
If you are not aware, every Late Night Show Tonight has a different host, guests, performers, and writing staff selected from the comedy community. Every month the audience can see their favorite talent build a completely new and original talk show from their own POV. Now that's originality, kids!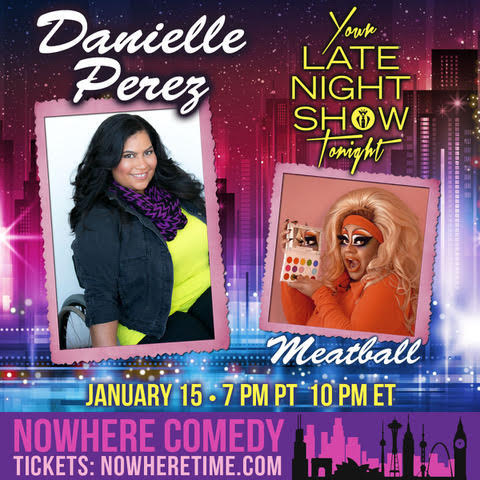 In 2015 Danielle became an internet sensation when a clip of her winning a treadmill on The Price Is Right, went viral. She appeared on Jimmy Kimmel Live! for her hilarious reaction to winning the awkward prize. She was profiled by LA Times after a standout performance in the 2020 CBS Showcase. A 2018 and 2019 StandUp NBC Semifinalist, Danielle has opened for Maria Bamford, Josh Gondelman, Guy Branum, and Cristela Alonzo. Her personal and biting brand of stand-up can be heard on Roxane Gay and Tressie McMillan Cottom's podcast Hear To Slay. Danielle also hosts Wow Rude, a weekly comedy podcast about pop culture, friendship, and being too much, with Madison Shepard. Danielle has been profiled by CNN, Refinery29, Great Big Story, Forbes, and in 2018 Los Angeles Magazine featured her as one of the "13 Powerful Women Who Are Making L.A. a Better Place." Don't miss this chance to see this spitfire talent in action, brunching it up with the best around!
Mentions: Show 7pm PT/ 10pm ET on Nowhere Comedy Club's Zoom.
Tickets HERE. Show duration is 75-90 minutes, followed by a VIP Meet and Greet. For upcoming virtual comedy show dates and strong opinions about brunch follow Danielle on Twitter and Instagram @divadelux. YLNST is produced by Ben Kuerschner (The Tonight Show), Pauline Ekholt, Dempson Juvenal and Gil Baron (Comic Relief).