Quick Dish Quarantine: Get A Romantic Dose of SHOT4SHOT with 'Titanic' TONIGHT & A Valentine's Marathon Event SATURDAY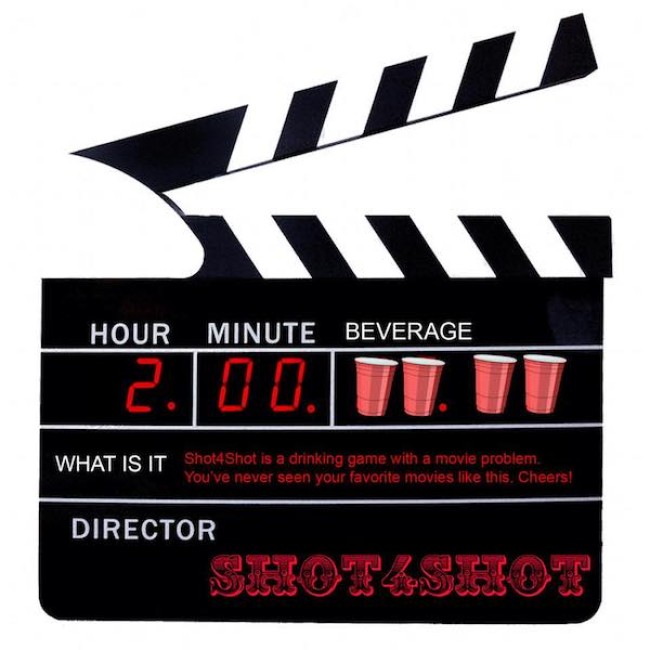 Cupid is ready to sling some arrows this Valentine's Day weekend. So, of course, SHOT4SHOT needs to intercept the cherub with some hearty laughs. Friday, the recreations will be a plenty as the show digs its "drinking game with a movie problem" claws into the 1997 love/disaster epic Titanic. Who can forget Jack and Rose spreading their wings on the bow of the doomed ship or that nude sketch session? Oh, you forgot about that?…I bet you did. Don't worry, Shot4Shot will be bring back every honking "Heart of the Ocean" memory for you. (Also, Pepperidge farm remembers.) The cast taking on this monumental task will include: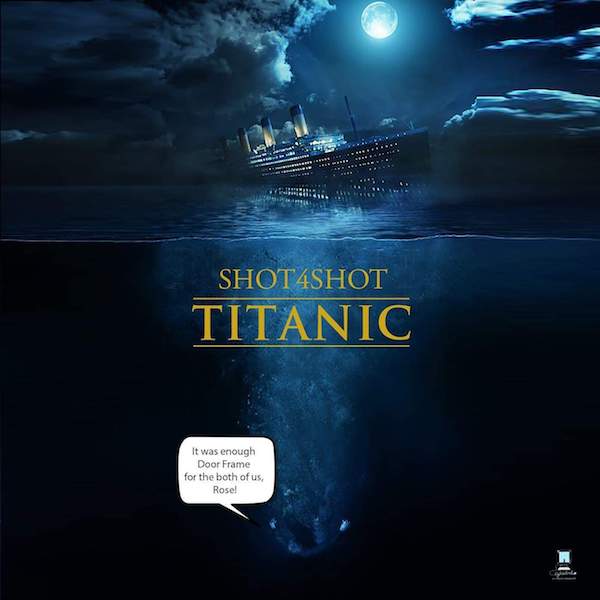 Stage Directions/Drink Ref… Amelia Morgan
Rose Dewitt Bukater… Jack Rokicki
Jack Dawson… Matthew Schrader
OLD Rose… Bert James
Ruth Bukater… Shamarah Hernandez
Unsinkable Molly Brown… Kate Martino
Cal Hockley/Bodine… Leah Evans
The Iceberg/Lizzy/Ismay… Andy Fitch
Lovett/Captain EJ Smith … Sheree V Campbell
Thomas Andrews /CNN Reporter/Little Boy/Olaf… Alice Fishbein
Murdoch/Tommy/Porter/Bjorn/Master of Arms… Heather Jewels Booth
Cameraman/Fabrizio/Barrett/Mother/Officer… Marcus Haugen
Lowe/little girl Cal uses to get in the boat/Moody/Rowe/Gracie/Bride/The Band/Krins… Danny Shaw
Lighttoller/Cora/Steward 2/Wyatt/McElroy/Sven/The Band/Buell… Julia Darden
Woman/Barnes/Helga/The Band/Hartley/Hitchins/Steward… Matt Cavanagh
Waiter/Fleet/Father/Phillips/Crewman/Astor/Operator… Megan Sickels
Lovejoy/Anatoly/Countess/Lee/The Band/Chief Engineer… Luis Nunez
Pubkeeper/Bell/Trudy/Announcer/Boiler/Husband/Hartley/Guggenheim…Matthew McFadden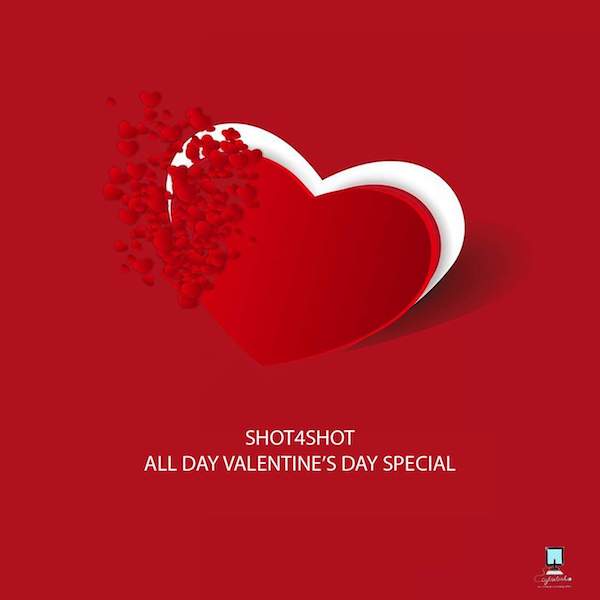 Surely, that's enough love and tragedy for one weekend? NO! Saturday night you will be plunged into the depths of Movies About Love with an All-Day Shot4Shot Event (including coverage of an original film written by Leah Evans). Each cast will, once again, recreate popular movies, tack on a drinking game, and go off-script to their heart's content. You will be able to laugh your sorrows away starting at noon eastern as your talented players fiddle with the classics:
12 PM – WHILE YOU WERE SLEEPING
CAST
Stage Directions/Drink Ref… Samantha Manas
Lucy… Ryan Chittaphong
Jack… Leah Evans
Peter… Portia Shea
Saul… Ro Rovito
Jerry/Officer/The Cat… Luis Nunez
Midge… William Pope
Mary… Jenny Hill
Elsie… Kimberly Stewart
Joe Jr/Patient… Olivia Wardwell
Ox/Vendor… Billy Fenderson
Ashley Bacon/Mugger/Doctor 2/Beth… Brian Shea
Mr. Mollo/Doctor/Dalton/Church Goer/Husband/Kiss Double… Joy Weeeng
Nurse/Orderly/Priest/Doorman/Celeste/Phyllis… Sarah Hewitt
—
2 PM – LOVE ACTUALLY
CAST
Stage Directions/Drink Ref… Marybess Pritchett
Daniel/Nancy… Kristin Nalivaika
Sam/Sarah/Octopus Keith… Melissa Parker Caron
The Prime Minister/CHORUS… Olivia Wardwell
Natalie/CHORUS/Mike/Bernie/Child 3… Andy Fitch
Billy Mack/Director of Photography/CHORUS/Amer Expert/Little Girl 3/Mr. Trench… Heather Jewels Booth
Joe/Daisy/Director/Jennie/Jaime's sister/Mum/Sophia/CHORUS… Marcus Haugen
Harry/The President/Vicar/Gateman… Ryan Chittaphong
Karen/Juliet/Jeremy/Press People/Kate/Student 5/Carol Anne/Little Girl 2/Proprieter… Ro Rotivo
Jamie/Mark… Leah Evans
Aurelia/John/CHORUS/Press Person/Press People/Stacey/Driver… Naomi Pitt
Peter/Mia/Terence/New Woman/Student 4/Jaime's Mom/Old Lady/John's Brother/Mr. Barros/Carla… Sonia Nam
Karl/Joanna/Pat/Ant/Eleanore/Press People/Student 3/Barman/Policeman/Harriet… Marissa Stuart
Collin/Judy/Radio/Michael/Taxi Driver/Gina… Megan Sugrue
Rufus (Mr. Bean)/Katya/Annie/Girl/Student 2/Child 1/Dad… Joel Shaughnessy
Tony/CHORUS/Chris/DJ/Sunday DJ/Alex/Dec/Parky/Student 1/Child 2/Little Girl/Carol/Leo… Sheree V Campbell
4 PM – TWILIGHT
CAST
Stage Directions/Drink Ref… Michael J. Astrauska
Bella… Joel Shaughnessy
Edward… Emily Riggins
Jacob… Sonia Nam
Dr. Cullen… Sheree V Campbell
Esme/Billy… Ryan Chittaphong
Alice/Waylon… Frank Hoffman
Rosalie/Eric… Kate Martino
Charlie/Jasper… Leah Evans
Rene/Laurent… Naomi Pitt
Mike/Charlie… Luis Nunez
Jessica/Cora/Frat Boy 1… Amelia Morgan
Angela/Tyler… Josh Klafter
Victoria/Phil/Administrator… Matt McFadden
James/Mr. Molina/Frat Boy 2… Chelsea Monet
6 PM – GREATEST SHOWMAN
CAST
STAGE DIRECTIONS/DRINK REF… Michelle Drozdick
PT BARNUM… Luis Nunez
CHARITY BARNUM… Emily Klopfer
ANNE WHEELER… Sheree V Campbell
PHILLIP CARLYLE… Leah Evans
YOUNG PT BARNUM/O'MALLEY… Megan Sugrue
JENNY LIND/PHILO/VENDOR… Shamarah Hernandez
LETTIE LUTZ/CALLER… Heather Jewels Booth
CAROLINE BARNUM/DOG BOY… Frank Hoffman
HELEN BARNUM/WD… Matt Cavanagh
JAMES GORDON BENNETT/CHALMERS/BANKER/CAPTAIN CONSTENTENOUS/GIRL… Logan Kelley
QUEEN VICTORIA/WIFE/GERTRUDE/PALVOS/MR CARLYLE… Sonia Nam
YOUNG CHARITY BARNUM/TOM THUMB/BALLET GIRL 2… Amelia Morgan
WOMAN/NEWSIE/CHARLES/LORD OF LEEDS/BALLET GIRL 1/MRS HALLETT/MR CARLYLE… Shawn Gray
FREDRIC LEHNE/SMITH/MAN/LADY/HERALD… Joe Miles
8 PM – 50 SHADES OF GREY
CAST
Stage Directions/Drink Ref… Kate Martino
Anastasia Steele… Nick Carrillo
Christian Grey… Leah Evans
Kate/Pigtailed Blonde Server… Joe Miles
Mrs. Grey/Receptionist 1/Graduation Photographer… Irene Carroll
Mia Grey/Receptionist 2/Paul/WSU University President/Glider Tow Pilot… Matt Caron
Ray/Elliot/Mr. Grey/Andrea/Computer Technician/Savannah Hotel Waiter… Luis Nunez
Carla/Taylor/Female Grad 1… Julia Darden
Jose/Control Center/Female Grad 2/Bob… Sarah Kim
10 PM – GHOSTED (AN ORIGINAL FILM WRITTEN BY LEAH EVANS)
CAST
Leah Evans
Luis Nunez
Aaron LaRoche
Nick Carrillo
Andy Fitch
Jason Zednick
Megan Sugrue
Heather Jewels Booth
Izzy Ochocki
Matt Caron
Joy Weeeng
Sheree V Campbell
Olivia Wardwell
Naomi Pitt
Ryan Chittaphong
Sarah Kim
Mentions: The Titanic event starts at 9:30pm Tonight, while the Shot4Shot movie marathon begins at noon on Saturday 2.13. Email the shot4shotnyc@gmail.com to watch!