Quick Dish LA: HOOPBUS Presents A Live Comedy Show 7.24 at LA College Prep Academy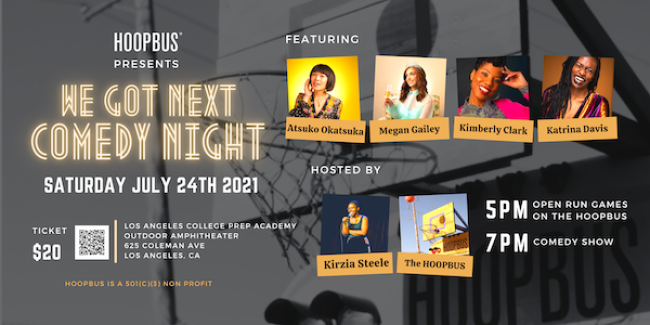 B-ball and humor join forces Saturday, July 24th as LA non-profit HoopBus hosts it's FIRST comedy event. The charity believes "basketball helps create a more connected world by combining charitable giving with basketball, art projects, and political activism." Sooo this month the organization will bring on the entertainment with a great lineup featuring comics on Netflix, Hulu, and HBO, as part of their WE GOT NEXT Women Empowerment Campaign:
Atsuko Okatsuko
Megan Gailey
Kimberly Clark
Katrina Davis
Hosted by Kirzia Steele
Since it's not a Hoopbus event without basketball, you'll have time to check out the bus' pop-up shop filled to the brim with streetwear, plus catch a run of the best street baller in LA. And because it's always best to keep safe, Los Angeles College Prep Academy will be providing a large outside space so participants can feel super comfy. Grab your tickets for this unique and worthwhile event!
Mentions: Doors open & pickup runs on Hoopbus 5pm PT. Comedy Show 7pm PT. $20 tickets HERE. Location: LA College Prep Academy, Outside Amphitheater, 625 Coleman Ave., Los Angeles,CA 90042. Learn more about the charity THERE.