Quick Dish LA: MR. HORSEPOWER Comedy Show 8.29 at Permanent Records Roadhouse
The day has just begun on an LA Monday, and we're already dreaming of being on smoko. (Yes, I will not so subtly infuse that recreational word stateside, if it's the last thing I do). Well then, it's probably a good thing that you have Mr. Horsepower to look forward to! What did you say? BoJack Horseman? No, HORSEPOWER! Like the vroom vroom? YOU KNOW, that new show hosted by Alan Johnson & Michael Goldenberg (The Pack, UCB) that's about to sweep the LA comedy scene. Sunday, August 29th at Permanent Records Roadhouse, join this motley crew on the bar patio:
Sarah Squirm (Adult Swim, Helltrap Nightmare)
Brandon Wardell (I Think You Should Leave, Yeah But Still)
Ify Nwadiwe (@Midnight, White Women)
Chelsea Pope (The Groundlings Sunday Company)
Hey, you have to cure the Rick & Morty withdrawals somehow! Don't miss it!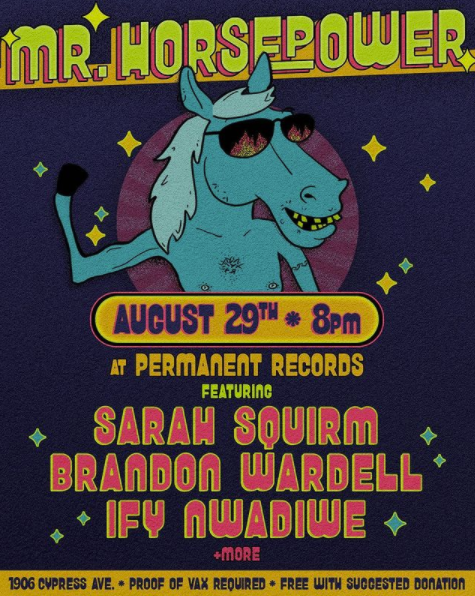 Mentions: Show 8pm PT. FREE with suggested donation, register HERE. Location: Permanent Records Roadhouse, 1906 Cypress Avenue, Los Angeles, CA 90065. Proof of vaccination is required for entry. Placeholder design by Pete Handelman.