Quick Dish NY: 'WOULD YOU RATHER with Andre & Maggie' Live at Friends and Lovers 10.14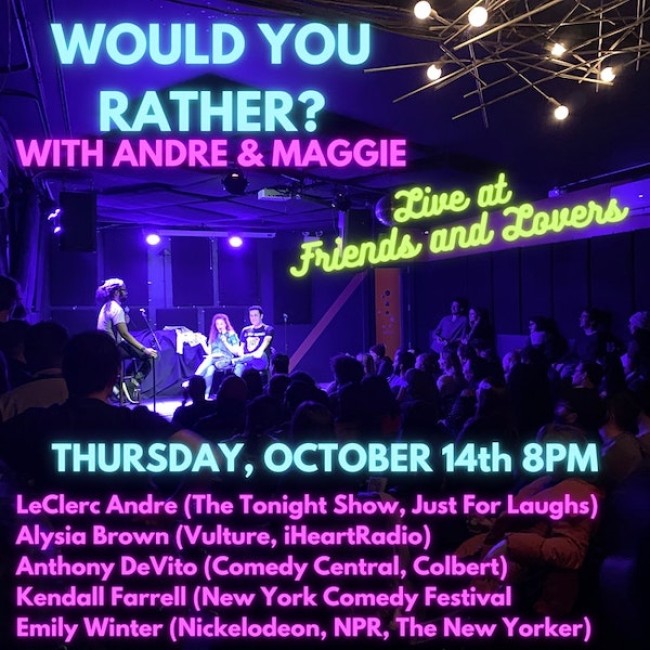 Thursday, October 14th at Friends and Lovers in Crown Heights, join Maggie Maxwell (Kids These Days) and Andre Medrano as they invite the most hilarious entertainers to answer the most pressing questions facing society at large. Examples of WOULD YOU RATHER… queries that might be posed at a show include:
Would you rather lose the ability to sweat or spit?
BBQ with holy guacamole or picnic with blessed dressing?
Rock a sweet farmers' tan or a sinister goggle tan?
You know, standard stuff! The drop-dead funny lineup providing much needed answers will include:
LeClerc Andre (The Tonight Show, Just For Laughs)
Alysia Brown (Vulture, iHeartRadio)
Anthony DeVito (Comedy Central, Colbert)
Kendall Farrell (New York Comedy Festival)
Emily Winter (Nickelodeon, NPR, The New Yorker)
Don't miss this chance to find out what your favorite folk prefer!
Mentions: Show 8pm EST. Tickets HERE. Location: Friends and Lovers, 641 Classon Ave, Brooklyn, NY 11238. Follow the show THERE. The show has been going strong for more than four years with past guests appearing on MTV, Comedy Central, Netflix, Hulu, HBO and comedy festivals around the country.