Quick Dish: The Freaks, Nerds, & Romantics – TERRIFIED Podcast Says Goodbye At NerdMelt 2.29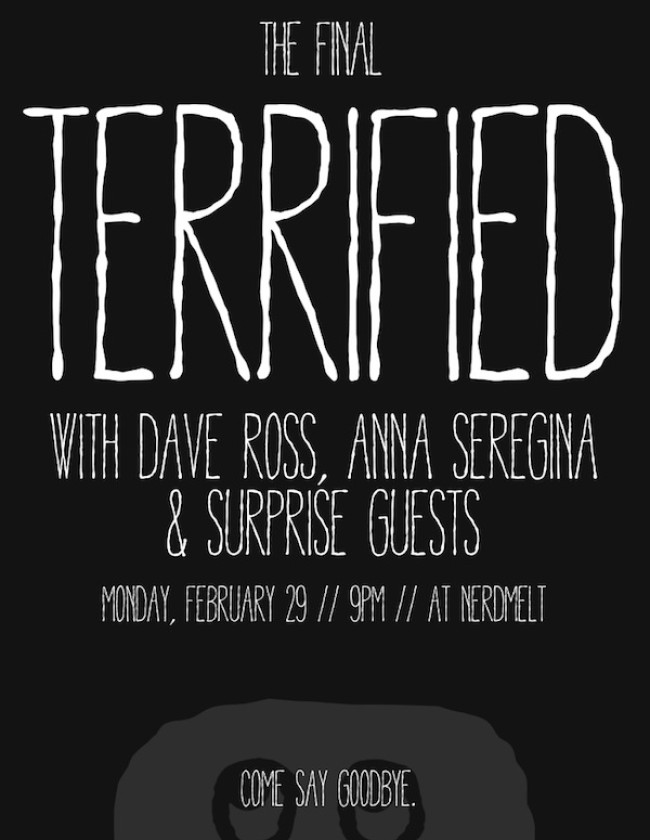 Comedian Dave Ross and Anna Seregina's podcast Terrified is over. The podcast about feelings is celebrating their over two-year run with a final live episode at the NerdMelt Showroom in the back of Meltdown Comics on Monday, February 29th at 9pm. They are inviting a select few of their friends and fellow comedians onstage to laugh, share, and tell stories, revealing their fears and self-loathing that'll promise to make you laugh and move you too. At the end Dave and Anna will invite anyone in the audience to join in to share their feelings as well. If it's anything like the podcast or the live show they did at NerdMelt back in the fall it'll for sure be a very special evening.
So come celebrate the Terrified podcast, again at 9pm on Monday, February 29th in the NerdMelt Showroom. Tickets are $8 in advance/$10 at the door. Buy online HERE. NerdMelt Showroom is located at 7522 Sunset Blvd., LA.
Mentions: Read my personal tribute to the podcast here if you're so inclined. Listen to Terrified episodes past HERE. Follow Dave and Anna on Twitter.