Quick Dish NY: DRUNK SCIENCE 9.15 at Littlefield in Brooklyn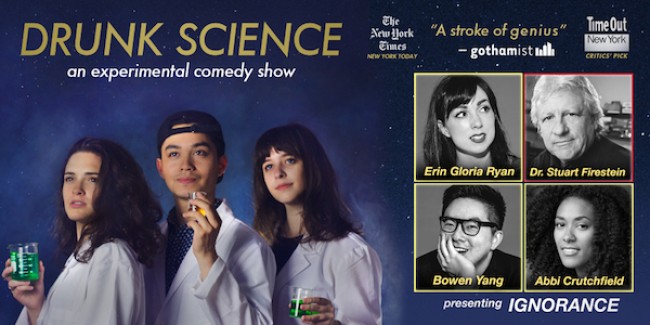 Once again the strong drinks and intellectual spirit will combine for your copious entertainment. Thursday, September 15th at DRUNK SCIENCE comedians Joanna Rothkopf (staff writer at Jezebel), Shannon Odell (neuroscience PhD candidate at Weill Cornell) and Jordan Mendoza (once was pre-med) bring you three intoxicated comedians competing to present a top notch scientific dissertation to a panel of REAL scientists. Yes, even comedians have brains. Heck, that co-host of American Ninja Warrior is a comic and a DOCTOR. Look it up! I digress. The September edition of Drunk Science is a special "back-to school" edition centering on the concept of ignorance. The convincingly brainiac guests will include
Bowen Yang (Brooklyn's 50 Funniest People, UCB, Above Average)
Erin Gloria Ryan (Vocativ, Brooklyn's 50 Funniest People)
Abbi Crutchfield (You Can Do Better on truTV)
with extra Special guest scientist Stuart J. Firestein, PhD, is the chair of the Department of Biological Sciences at Columbia University, where his laboratory is researching the vertebrate olfactory receptor neuron.
Bring your Trapper Keepers and hoverboards for a show that's going to be doctorate level hilarious
Mentions: Show 7:00pm doors, 8:00pm show. Purchase Drunk Science tix HERE. $5 in advance, $8 at the door. 21+. Littlefield Performance & Art Space is located at 622 Degraw Street, Brooklyn, NY 11217.