Quick Dish LA: This Weekend 4.16 Hang with FRIENDSHIP BUDDIES in Glassell Park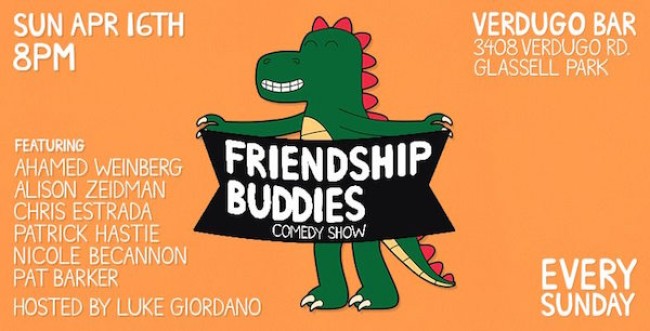 Is there any better weekend to hang with your amigos and share a laugh. Sunday, April 16th at the Verdugo Bar in Glassell Park FRIENDSHIP BUDDIES brings you some sweet, sweet stand-up. Nothing makes "Sunday Funday" better than craft beer, cocktails, and the best comedians in Los Angeles. Can they really all be the best? YES, THEY CAN! This week's lineup will sweep you off your feet:
Ahamed Weinberg
Alison Zeidman
Chris Estrada
Patrick Hastie
Nicole Becannon
Pat Barker
Hosted by Luke Giordano!
It's about time you tried something new, you homebody. GO!
Mentions: Show 8pm. FREE!!! The Verdugo Bar is located at 3408 VERDUGO RD // GLASSELL PARK.