Quick Dish NY: GO RICKI! Standup & Storytelling One-Year Anniversary Show 7.13 at Q.E.D.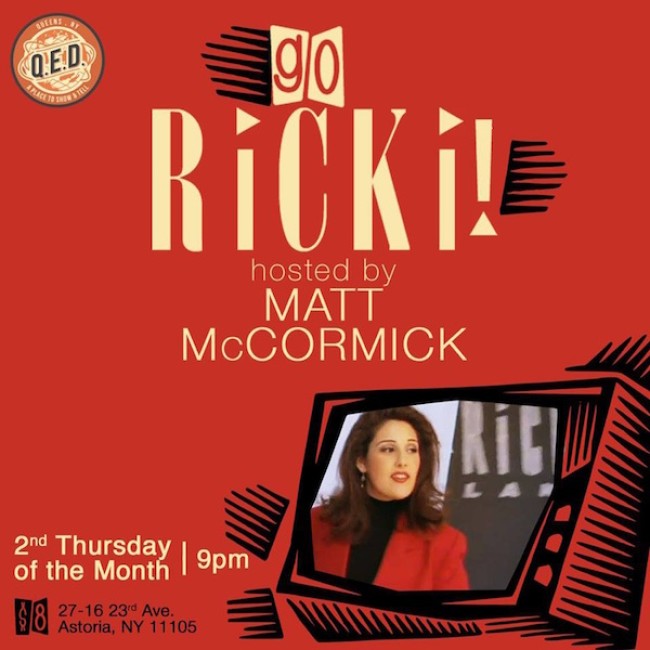 Pump up the fun factor because GO RICKI! is back! Join comedian Matt S. McCormick for an evening of Ricki Lake inspired standup and storytelling Thursday, July 13th at Q.E.D. The 2nd Thursday of each month YOU can experience that tabloid talk show sensationalism with topics pulled from the beloved "The Ricki Lake Show." Join McCormick and friends as they riff about "fake friends, nasty neighbors, two-timing traitors, and more!" This month is extra special because it's the ONE-YEAR anniversary show which will include guests
Oscar Aydin (Princess Cruises)
Myq Kaplan (Conan)
Kendall Ketchum (opener for Darrell Hammond)
Robyn Schall (Live at Gotham)
Sydnee Washington (The Warm Up)
Did we mention, the birthday topic will be "I'm Sick & Tired of Hearing About Your Baby…Shut Up & Get a Life!"? Oooooh MY! Don't miss out on this delightfully over the top event!
Mentions: Show 9pm. Buy tix HERE! Q.E.D. is located at 27-16 23rd Avenue
Astoria, NY 11105. Mike McCormick has performed as part of the QueerCom, Solocom, and Cinder Block Comedy Festivals. Learn more about Go Ricki! HERE.