Quick Dish LA: ALL MY SINGLE FRINDS Live Comedy Show & Dating Event 7.20 at The Copper Still
Have your CAKE and eat it too this July. All My Single Friends is back at The Copper Still with comedy and live dating! AMSF features LA's hottest up & coming comedians PLUS gorgeous singles on the hunt for companionship. If you're sick of swiping and need a laugh this show is for you! If you are not single but know some who needs that unextinguishable flame in their life, this show is for both of you! Participants can see awesome comedic sets and in between these sets, hosts Avra Friedman and Daliya Karnofsky conduct onstage interviews with the singles and comedians. Singles can keep track of the sticker numbers of the people (yes, you will be marked) that catch their eye. Later singles write down the numbers on their own number, give it back to the hosts, and Avra & Daliya reach out on their behalf (like fairy godmothers or live dating app!) Check out this month's lineup:
Chelsea Davison
Heather Pasternak
Thai Rivera
Sofiya Alexandra
Preacher Lawson
Hosted by Avra Friedman and Daliya Karnofsky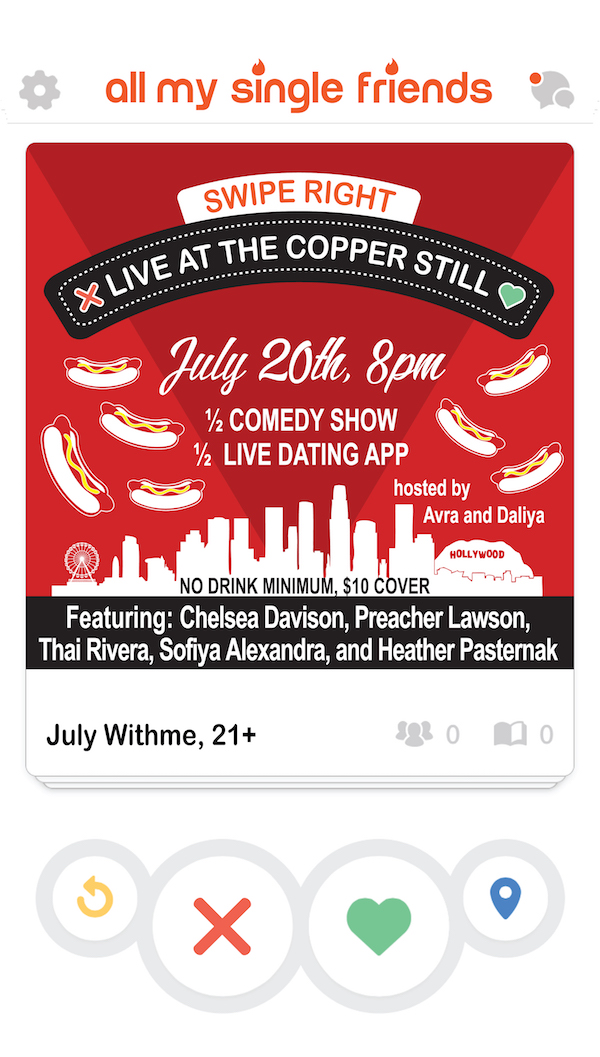 Spruce up that love life and laugh yourself silly at the All My Single Friends show!
Mentions: Doors at 8, show at 8:30. $10 cover, no drink minimum. 21+. The Copper Still is located at 4485 Beverly Blvd, Los Angeles, California 90004.