Quick Dish LA: Enjoy PackCon2 Hard Core Laughs TOMORROW 7.15 at The Pack Theater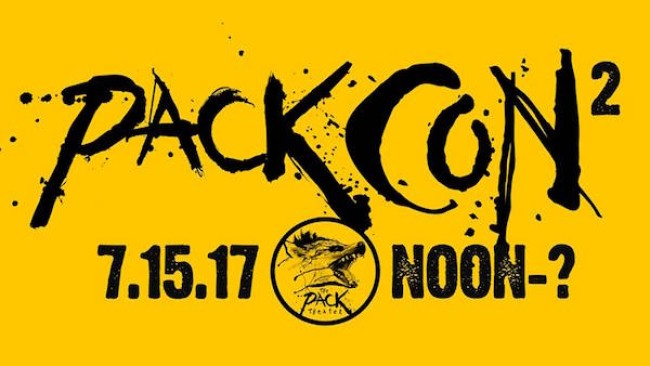 The Pack Theatre is a performing arts venue that features some of the best improv, sketch, stand up, and original comedy in all of Los Angeles. The theater will be holding their annual comedy festival PackCon2 TOMORROW Saturday, July 15th from 12:00PM-Midnight (or whenever the cows come home). For an entire day and night you will be able to see comedy from an impressive gamut of entertainers including David Koechner, Adam McKay, Maria Bamford, Ian Roberts, Whitest Kids U Know, Kevin Dorff, Everything Is Terrible!, Howard Kremer, Johnny Pemberton, Sara Paxton, and MORE! The PackCon Prime Passes currently sold out, BUT you can still pay $10 tomorrow for general admission seats and SRO (Standing Room Only). The 12PM-6PM shows, and the 11PM show are Pay What You Can. The 7PM, 8PM, 9PM, 10PM shows are $10 general admission. Here are more glorious deets verbatim from the Facebook event page (thank fudge for copy & paste):
NOON: THE SCRAMBLE ALL STAR SHOW!
The hosts of The Pack's popular weekly noon show THE SCRAMBLE (Anne Rene Brashier, Erika Curry & Katy Dolle) welcome an all-star lineup. With performances by Dulce Sloan (Conan, @midnight, E! News Live), The Dick & The Dame, Damienne Merlina, Lola La Minx, Danielle Perez, and musical comedy from Lewberger.
1:00PM: SUPER SIZE WHAT A CHARACTER!?!
The Pack's character team WHAT A CHARACTER host a very special hour highlighting the character & genre shows The Pack has to offer. Performances by The Color Collective, Book Report, Sketch That Tune, Progress: Now!, Jakked Wrestling Comedy, Bill & Ted's Excellent History Report, Sketch That Tune, and Varut Chee!
2:00PM: RUDE MONDAY PRESENTS!
The Pack House Improv Teams from Monday night (Belligerent, Fussy, Chauncey, Foxglove) have a special show planned so secret we don't even know what it is!
3:00PM: yay! & RAT THROAT SPIN THE WHEEL OF DEATH/CELEBRITY BIG YELLOW TAXI
To commemorate yay! taking the mantle from the retiring HMS Death, Tuesday night House Teams yay! & Rat Throat will spin the Wheel in a Pack authorized "friendly". Big Yellow Taxi has a Very Special Driver performing with them Zabeth Russell (Mystic River, Suburgatory, Kimmel, Disney's Bizaardvark, Henry Danger).
4:00PM: ALL STAR BEST OF TPT LATE NIGHT TALK SHOWS
This mega show brings together the producers of all of our Late Night offerings. The Ointment, TPT Late Night Tonight, The Night Cap & Late Nightmare form Voltron-like and deliver a Super Sized Late Night Show that will crush your current event concerns.
Performances by Michelle Ortiz (MADtv), JC Coccoli (Chelsea Lately), Kelly Vrooman, Nick Gligor, Christine Little, Katie Molinaro, Elyssa Phillips, Kash Abdulmalik, the hosts of The Ointment (Andrew Fernandez, Michael Resnick, Ted Asbaghi), Stacy Rumaker & Maria Felix from "The Night Cap", Katherine Cowell, Mike Rose, Tim McGovern.
Produced by Gil Baron, Ben Kuerschner, Greg Goodness, & Jonathan Grant)
5:00PM: SET LIST presents an hour of stand-up from…
Maria Bamford (star of NETFLIX's Lady Dynamite)!
Eddie Pence (Gotham Comedy Live, CBS's The Late Late Show)
Jamie Loftus (Comedy Central, HULU, JASH, Paste, Cracked)
Phil Binder (CHILLLLLLLLLLLLLLLL)
Jason Van Glass (Bridgetown Comedy Festival, SFSketchfest)
6:00PM: TPT SKETCH NIGHT at #PACKCON2
All 11 of The Pack's amazing House Sketch Teams put up the Best of The Best for a knockout sketch extravaganza. Performances by Haymaker, Dr. America, Tiny Muscles, 100% Stuff, Gunslinger, Tantrum, Turncoat, Dandy, Daughters of Triton, Femmebot PHD, and Nightchurch!
7:00PM: ALL STAR CELEBRITY BIODOME Hosted by Sam Brown
Mr. Brown brings an Extra Large Biodome to PackCon2 featuring multiple Celebrity Guests and a Who's Who of our Pack performers. Watch with Zach Cregger (Whitest Kids U Know, TBS's Wrecked), Sara Paxton (The Last House on The Left, Cheap Thrills, Showtime's Twin Peaks, SpongeBob SquarePants), Timm Sharp (Undeclared, Enlightened, STARZ's Blunt Talk) and a SPECIAL SURPRISE GUEST as they see their craziest stories played out by Pack performers before their eyes (and yours!).
(All-Star Biodome is $10 general admission, or part of the #PackCon Prime Pass.)
8:00PM: MONSTER ALL-STAR SIX PACK hosted by Neal Dandade & Brian James O'Connell. An All Star studded version of The Six Pack, the theater's premier improv show.
With performances by…
Matt Jones (Breaking Bad)
Diona Reasonover (TBS's Clipped)
Derek Mears (Jason from Friday the 13th, Sleepy Hollow)
Haley Mancini (Powerpuff Girls)
Tommy Bechtold (ABC's The Middle)
Lloyd Ahlquist (Epic Rap Battles of History)
Andie Bolt (MTV's Mary & Jane)
Joan Ford (The Nerdist, HelloGiggles)
(All-star Six Pack is $10 general admission, or part of the #PackCon Prime Pass)
9:00PM-10PM: MONSTER ALL-STAR CELEBRITY IMPROV SET Hosted by the creator/leader of The Pack Theater, Miles Stroth.
Playing with Miles are:
DAVID KOECHNER (Anchorman, The Office, SNL, etc.)
ADAM MCKAY (Oscar winner, SNL, famed writer/director of Anchorman and many more, co-founder of FunnyOrDie)
IAN ROBERTS (co-founder of UCB, head writer of Key & Peele)
KEVIN DORFF (Conan, Parks and Rec, 30 Rock, The Office)
STEPHNIE WEIR (MADtv, Crazy Ex-Girlfriend)
BOB DASSIE (Mr. Pickles, WeirDass, Dasiriski)
REBECCA SOHN (The Annoyance Theatre, Shrink)
RICH SOHN (The Annoyance Theatre)
(This show is $10 general admission, and part of the #PackCon2 Prime Pass.)
10:00: A very special LOOSEY GOOSEY
The Pack Theater's flagship variety show is at #PackCon, Hosted by Josh Fadem (30 Rock, IFC's Better Call Saul, Showtime's Twin Peaks, Adult Swim), Sam Brown (IFC's Whitest Kids U Know), & Eric Moneypenny (FOXADHD, Adult Swim, and The Midnight Show).
With performances by…
Whitest Kids U Know (Trevor Moore, Zach Cregger, Sam Brown)
Howard Kremer (host of Who Charted?, Dragon Boy Suede)
Johnny Pemberton (NBC's Superstore, FOX's Son of Zorn, 21 & 22 Jump Street, Disney's Pickle & Peanut)
Lizzy Cooperman (Comedy Central's Not Safe with Nikki Glaser, The Eric Andre Show, E!'s The Dish)
Hal Rudnick (Screenjunkies, The Midnight Show)
(Loosey Goosey is $10 general admission, and part of the #PackCon Prime Pass.)
11:00PM: THE BIGGEST ***SPEEDFACE*** EVER!!!
Closing out #PackCon2 is one of the most popular, premier monthly events at The Pack Theater. It's our craziest show. It's something you can never unsee. It's the biggest one ever. It's Speedface.
THE FOLLOWING PERFORMERS HAVE 100 SECONDS TO ENTERTAIN YOU™.
Everything Is Terrible! (online legends and keepers of The Jerrys)
Scout Durwood (MTV's Mary & Jane)
Joe Chandler (American Dad, The Midnight Show) & Curtis Rainsberry (The Midnight Show, Key & Peele)
The Color Collective (The Pack Theater)
Leroy Patterson (America's Got Talent)
Jason Wayne Christian (FX's You're The Worst)
Jamie Loftus & Phil Binder (CHILLLLLLLLL)
Michael Bilow & Franky Guttman (Dark Matters)
Hunter M. Altman & Lauri Roggenkamp (Go Sketch Yourself)
Reed Brice (Late Nightmare)
Sarah Bellardini, Cheyenne Grogan & Elyssa Phillips (Tantrum)
Katie Molinaro (Haymaker)
Kash Abdulmalik (Turncoat)
Michael Gabriel (Dr. America, UCB's Characters Welcome)
Elizabeth Hayhurst (100% Stuff)
Miles Roberts & Dean Peters (Bananas)
Nicky Urban (Femmebot PHD)
Connor Hurley (4 Cute Boyz, Dandy)
Wolfhammer (Jason Kaye & Alex Walters)
Jessica Rose Felix (Gunslinger)
Meredith Morris (The Pack Theater, JWC)
Andrew Shrout (Tantrum)
Jas Sams (The Pack Theater)
Michael Skarsten (Fussy)
Niv Brook (100% Stuff)
Sam Weller & Michael Goldenberg with many special guests.
Hosted by Dr. Timefuck (Nick Gligor) & Speedface (John Paliferro)
(Speedface is Pay What You Can.)
************************************
AND there you have it! Have fun, kids!
Mentions: The Pack Theater is located at 6470 Santa Monica Blvd., Los Angeles.