Quick Dish NY: SHAWN WICKENS Album Release Party TOMORROW 8.5 at The Duplex Cabaret Theatre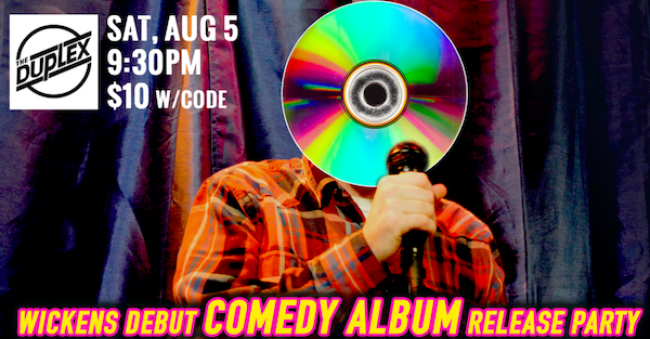 It takes a heavy dose of fortitude and brain injury to put out an album of purposefully questionable quality that includes bombing at open mics. Comedian SHAWN WICKENS (Bad Theater Fest/Bad Film Fest) abandoned convention and set out to compile a comedy album recorded at many a NYC open mic event. No bells and whistles here. Silly Jokes @ Sorry Open Mics is pure, unadulterated comedy at it's finest. The highlights of the album include a cautionary tale of dog sitting, the Voltron origin story of Shawn's dark humor, a cheesecake eating dilemma at a Golden Girls themed restaurant, and a recurring, poopy cheat day joke. TOMORROW you can get a taste of Shawn's comedy at his album release party at The Duplex Cabaret Theatre in New York. Shawn will be opening for headliner Ben Kirschenbaum and the show will include some special guests. The album is currently available on Spotify, iTunes, Amazon, Tidal and other digital platforms. Is this all part of Shawn's sensory deprevation tank experience? Only one way to find out!
Mentions: Show 9:30pm EST. ONE NIGHT ONLY! Get tix HERE! $20, 2 drink min. ONLY $10 w/Code: WICKENS. The Duplex Cabaret Theatre is located at 61 Christopher Street (at the Corner of 7th Avenue) New York, NY 10014. More about Shawn at shawnwickens.com.