Quick Dish LA: FRIENDSHIP BUDDIES 1.21 at Verdugo Bar Hosted by Pat Barker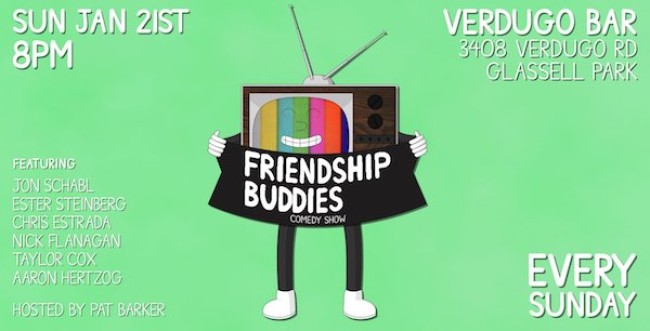 Has that big football thing happened yet? OK, as we wait for our comedy ad fix, may we suggest you attend the FRIENDSHIP BUDDIES show this Sunday, January 21st at Verdugo Bar. It's all the excitement of a national athletic event without the blood, sweat, and tears. Joining your host Pat Barker will be these laugh-worthy entertainers:
Jon Schabl
Ester Steinberg
Chris Estrada
Nick Flanagan
Taylor Cox
Aaron Hertzog
That lineup will top a "Puppymonkeybaby" any day! Be there, kids!
Mentions: Show 8pm. FREE! Comedy, craft beers, cocktails & friendship! Verdugo Bar is located at 3408 Verdugo Rd., Glassell Park. This show is produced by Pat Barker, Luke Giordano, and Aaron Hertzog.