Quick Dish LA: Pal Around at FRIENDSHIP BUDDIES 2.11 at Verdugo Bar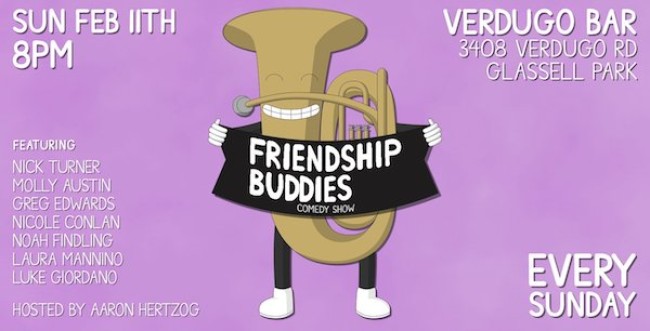 Hey, I just watched the trailer for Marvel's Venom and it got me thinking. Would you rather have a Klyntarian alien symbiote relationship or hang out out at a cool comedy show watching some awesome comics perform? I think the choice is clear. This Sunday, February 11th, join Friendship Buddies for a night of symbiote-free stand-up. You won't be able to read your comic book during the show because you'll be laughing to hard at these folks:
Nick Turner
Molly Austin
Greg Edwards
Nicole Conlan
Noah Findling
Laura Mannino
Luke Giordano
Hosted by Aaron Hertzog
Come pal around this Sunday night at Verdugo Bar!
Mentions: Show 8pm. FREE!!! Verdugo Bar is located 3408 Verdugo Rd., Glassell Park. This show is produced by Pat Barker, Luke Giordano, and Aaron Hertzog.