TASTY NEWS: The Inaugural PET-A-LLAMA Comedy Festival August 16-18th in Petaluma
Whoa, Nelly! Thursday, August 16 through Saturday, August 18 the first ever Pet-A-Llama Festival comes to Petaluma, CA. And yes, I would like to pet a domesticated camelid some day. 38 miles north of San Fran, you will get to enjoy three glorious summer days of world-class comedy, featuring stand-up, themed shows, live podcasts, crowd-work shows, and super special events. There may not be any comedy clubs in this particular wine-country spot, but this festival should more than make up for that. Come soak in downtown Petaluma and sweet comedy events at two cool venues, The Mystic Theatre and The Big Easy (within walking distance of each other).
The comedy roster boasts a plethora of familiar names, including Sonoma County-native Brian Posehn, The Sklar Brothers, Scott Thompson as Buddy Cole, Todd Glass & The Todd Glass Band, Jay Larson, Ryan Sickler, Dan Van Kirk, and Drennon Davis. Adding to the stand-up fun, you enjoy live podcast taping from Dumb People Town, The Crab Feast and Benedettiville, a podcast and Petaluma-based kids' radio show. And if that wasn't enough, the theme shows will include Imaginary Radio, Comedians Cinema Club, FOLLOW THAT! and so much more! There's plenty of ticket info over at www.petallama.com, PLUS you can now get tickets for individual shows below (with more announcement to come.) Thanks, Blonde Medicine!
Brian Posehn
Blonde Medicine Showcase
Dumb People Town podcast
The Sklar Brothers
Apres le Deluge: The Buddy Cole Monologues
The First Show Is Free Stand-up Showcase
Follow That! Comedians vs. Cry Videos
Comedians Cinema Club
Todd Glass & The Todd Glass Band
The Imaginary Radio Program
The CrabFeast podcast
Party it up, kids!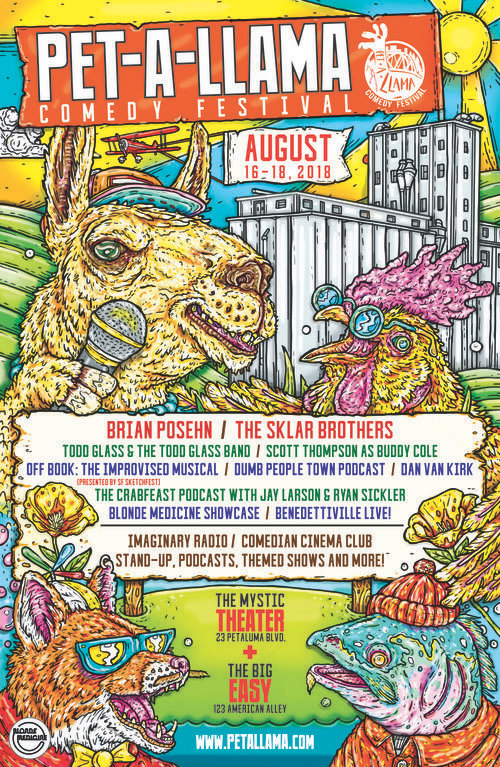 Mentions: Tickets for many of the Pet-A-Llama shows are available now and there will be more announced as we approach the festival.