Quick Dish NY: THE JONES FAMILY RETRO SHOW LIVE 9.24 at The Knitting Factory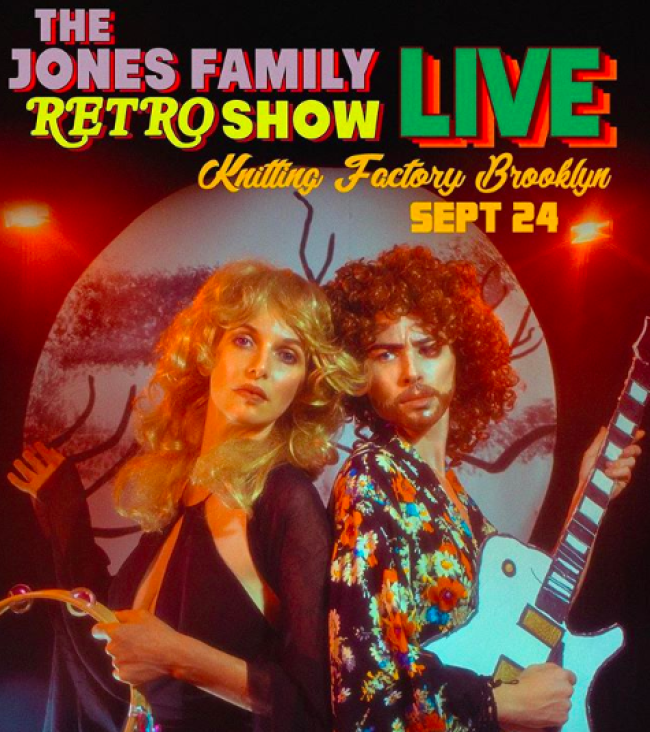 I WANNA ROCK… along to The Jones Family Retro Show Live this September at The Knitting Factory in Brooklyn. Rock and roll drag kings and sisters Maris Jones and Lavinia Jones Wright will dress as famous rock stars and present characters, comedy, drag, live sketch, commercials, musical performances, burlesque, puppets and more Monday, September 24 at your favorite NYC nightclub establishment. Harkening 70s variety shows like The Smothers Brothers and Dick Cavett (talk about a blast from the past), the Jones sisters do a tremendous job poking fun and paying homage to the last 60 years of pop culture through the lens of the characters they portray. Per the sisters,
"At its core, the show came to be a statement about the fact that there was no representation of women in that world, and therefore very few roles for us to play unless…we embodied male characters. Our theme song explains that we wanted to have our own show in the 70s but when we got there, we realized that we couldn't as women, so we pretended to be men. That's the origin story of The Jones Family Retro Show. As we have been developing our larger concept for the show, we realized that not only are we inserting ourselves into the male-dominated rock and roll world, but we are also invading the world of male TV hosts (our major inspirations for the show were The Smothers Brothers and Tim & Eric). So with our online presence, we decided to make it fun and mysterious and to tease out the concept over time. It felt like a subversive approach. The uncanny valley of people realizing what we're doing has been exciting. They come for the rock and roll, slowly realize we are women, and sisters, and have to confront their feelings about that. In the process, a deeper realization dawns on them: that we HAD to become men in order to participate in this culture."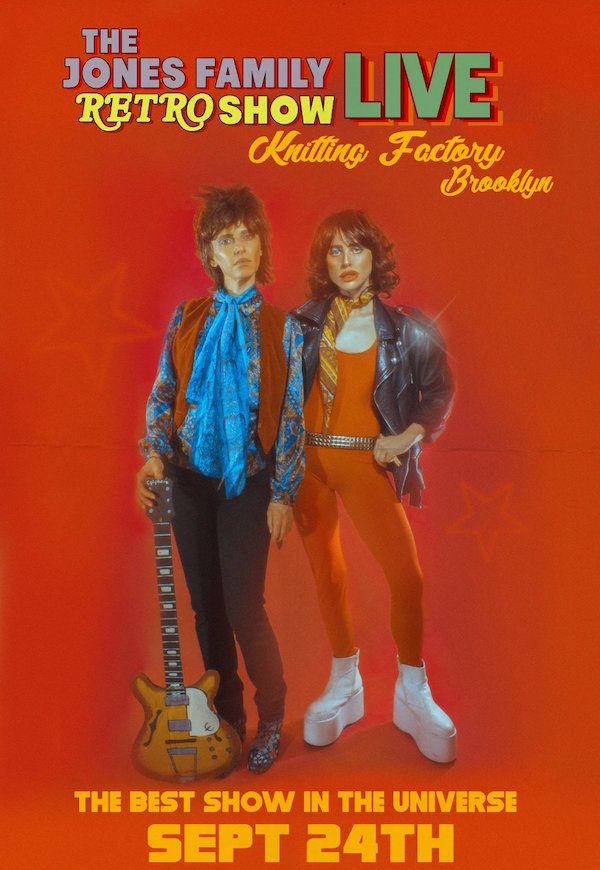 In addition to taking on Rock & Roll themes, at the September show they will also take aim at new archetypes like 50s sitcoms, game shows and 80s rom coms. Peace. It is my understanding that the show will be hosted by "The Rolling Stones"* and featuring special guests "Fleetwood Mac"*! with more special guest performers to be announced! (*The Rolling Stones and Fleetwood Mac will not be in attendance). You get the drift, but if you don't watch the Jones in action in their hilarious and accurate shot-for-shot remake of the trailer for the biographical Bohemian Rhapsody movie starring Mr. Robot's Rami Malek. Now go tell Siri 'I See a Little Silhouette of a Man.' Enjoy!
Mentions: Doors at 7:30pm, show at 8:00pm. Tickets $11 in advance, $15 at the door, 21+. The Knitting Factory is located at 361 Metropolitan Ave, Brooklyn, NY 11211. Follow the Jones Sisters on Twitter, @laviniajwright & @themarisjones, and Instagram, @laviniajoneswright & @themarisjones. Follow the show HERE & HERE!