Quick Dish NY: KENDRA CUNNINGHAM's 'This Could Be You' 11.29 & 12.13 at Don't Tell Mama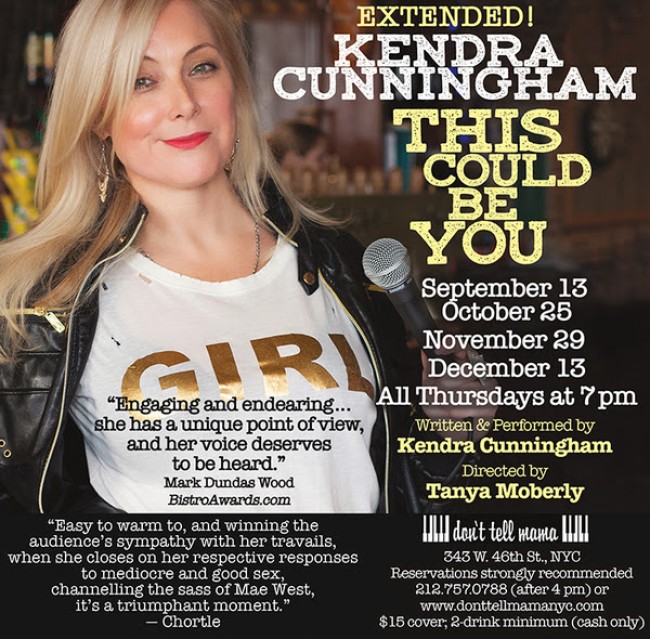 Thursday, November 29th and December 13th (yes, that's two separate Thursdays), you can see comedian KENDRA CUNNINGHAM perform her one-woman show THIS COULD BE YOU at Don't Tell Mama. Indeed, this could be YOU learning all about "her Boston-bred Irish Catholic family history and the realities of her emotional limitations, balancing humor with honesty." She's turned 20 years of introspection into an event that'll benefit everyone. Cunningham has been in the Montreal Just for Laughs Festival, The Glasgow Comedy Festival, was a finalist in the Boston Comedy Festival for two years in a row, and she twice appeared on NBC's Last Comic Standing. She also founded Malarkey Pictures along with her sketch partner, Vicky Kuperman, and they produced dozens of short films including, the Award Winning short "LonelyGirl48", as well as web series like "Why Is Everybody Always Hitting On Me". See, she's more than equipped to teach you a thing or two. Enjoy the holidays!
Mentions: Thursday November 29th – 7:00pm. Thursday December 13th – 7:00pm. Don't Tell Mama is located at 343 W. 46th St. New York NY.