Quick Dish NY: The ROAST OF HISTORY 1.26 at Caveat
If you are glutton for roasts and don't mind historical tidbits added to your entertainment stew, then we have just the thing! Saturday, January 26th at Caveat, come get your fill of the Roast of History! This history themed comedy show invites New York's best comedians to roast history's greatest figures, events, and even the concept of history itself in a deliciously hilarious fashion. You'll enjoy comics from The Golden Globes, Comedy Central, MTV, BET, The New Yorker and a Moth Grandslam Champion having a go at anything from Ted Kennedy to The Salem Witch Trials. This month's talented roasters include
Chanel Ali (Night Train with Wyatt Cenac, Caroline's)
Karen Chee (The New Yorker, Reductress)
Milly Tamarez (Comedy Central, BET)
Colby Smith (MTV, Radio Free Brooklyn)
James Hamilton (The Moth Grandslam Champion, Funny or Die)
…and more!
all hosted by Matt Strickland (Comedy Central)
We swear NO historical figure is safe from this comedic reckoning! GO!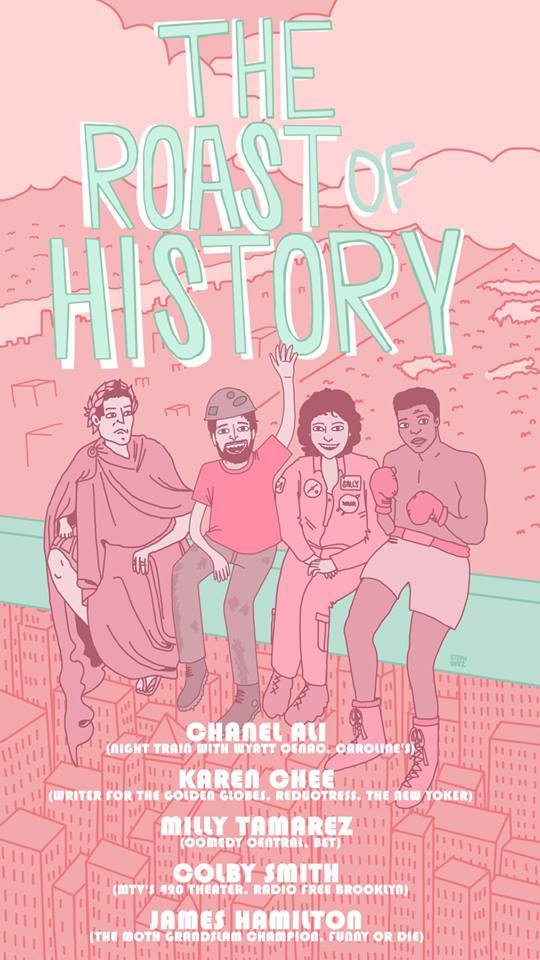 Mentions: Doors 9m, Show 9:30pm. Buy $10 tix HERE. $12 at the door. Caveat is located at 21 A Clinton St, Manhattan, NY, 10002. 21+. This event is mixed seated and standing room. Seats are first-come first-serve.