Quick Dish LA: Tonight at Little Joy THE BUSINESS with Daly! Klenk! Weinbach! & More!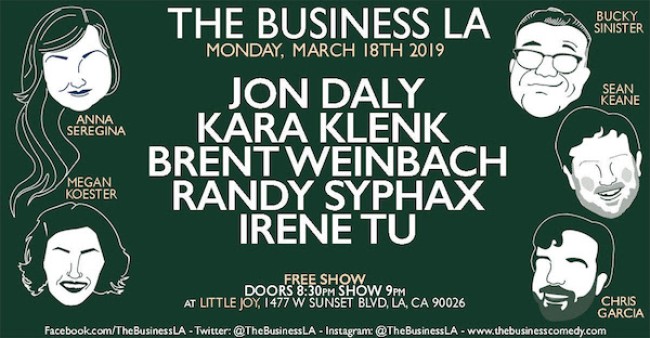 Angelenos, I know it's tough trying to concentrate on your job when the weather's so gorgeous out. Luckily, you can have both business and pleasure TONIGHT at THE BUSINESS LA. Every week expect high quality performances and non-stop laughs with 'The Biz Gang' of Chris Garcia, Sean Keane, Bucky Sinister & Anna Seregina, and your host Megan Koester. This week's lineup is nothing to hay fever sneeze at:
Jon Daly
Kara Klenk
Brent Weinbach
Randy Syphax
Irene Tu
Be there!
Mentions: Doors at 8:30p, Show at 9p. FREE! Little Joy is located at 1477 W Sunset Blvd., LA, CA.