Quick Dish NY: This Friday 7.19 QUEER TIGER BEAT A Teen Magazine Standup Show at The Duplex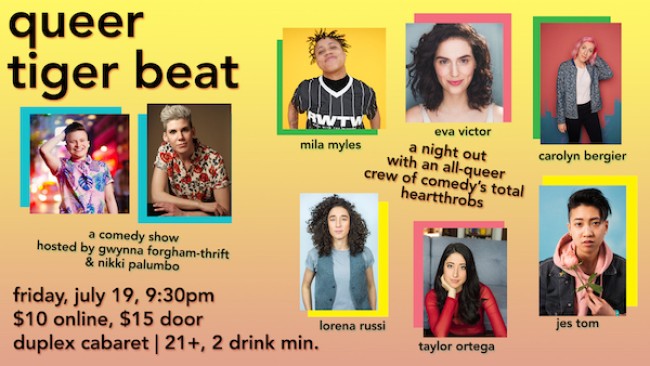 I think the closest teen mag I ever did gaze upon was something British, post-punk, and music related and, even then, I'm pretty sure adults were reading it too. I guess you could say I've been an old "wanna-be goth" soul for decades. Lucky for you, I don't think there will be a back combed coif, smeared red lipstick look in sight as QUEER TIGER BEAT brings the laughs this FRIDAY at The Duplex. Join Nikki Palumbo and Gwynna Forgham-Thrift for another installment of the teen magazine-turned-standup comedy show happening at the popular cabaret and popular piano bar, The Duplex. Your queer adult hosts have written and performed for UCB (Maude Night & The Queerball Sketch Show!), Reductress, Above Average, and Dyke Power(point) and this Friday they bring you these hilarious, fully-clothed centerfolds:
Jes Tom (Caroline's)
Eva Victor (Comedy Central)
Lorena Russi (Late Show)
Carolyn Bergier (Dyking Out)
Mila Myles (them.)
& Taylor Ortega (Disney)
Who else is now thinking about Robert Smith rochambeau-ing Cartman for a walke-talkie? OK, nobody? Go about your business.
Mentions: Show 9:30pm. $10 online, $15 door. The Duplex is located at 61 Christopher Street, New York, NY 10014.