Quick Dish NY: Earn Some Star-Themed EXTRA CREDIT 8.21 at The Tank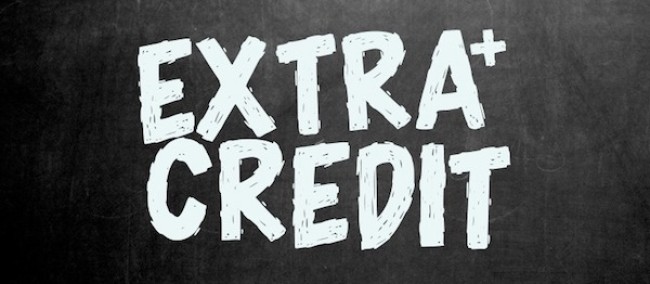 Extra! Extra! Read all about it! Come see EXTRA CREDIT perform Wednesday, August 21st at The Tank in NYC. The house sketch comedy team with The Armory comedy collective invites you to their next performance called The Stars (Are Out Tonight). Every show features fresh material based on a different theme. This time the show will consist of "a cluster of star-spangled sketches about celestial bodies, celebrities, and similar silly subjects." Oooh, I envision comedy sparkles. "Quirky characters and zany situations" are their jam, so this should be an absolute bursting black hole of a show! No telescopes required! Your Extra Credit laugh-generating bunch includes:
Director:
Mark X Guinn
Head Writer:
Rachel Clayton
Writers:
Theresa Basile
Marcus Haugen
Minki Kim
Matt McFadden
Kristin Nalivaika
Lisa Winters
Actors:
Meredith Brandt
Bert James
Aaron LaRoche
Ali Mierzejewski
Kent Morita
Sonia Nam
Olivia Rodrigues
Jack Rokicki
Jaryn Stewart
Marissa Stuart
Be there!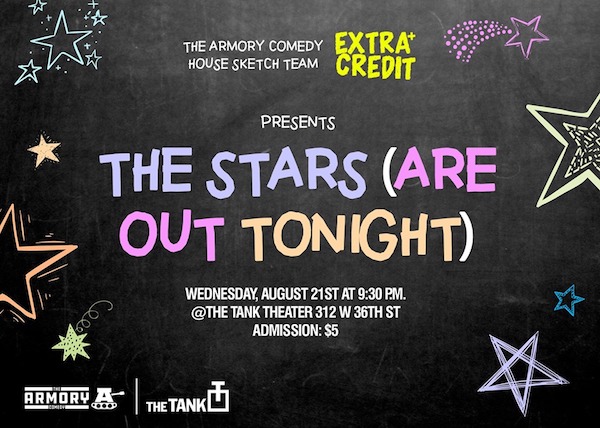 Mentions: Show 9:30pm. Tickets $5. The Tank is located at 312 West 36th Street., New York, NY 10018. Corner of 36th St. and 8th Ave.
Closest station, 34th Street Penn Station A,C,E. Follow the group on Facebook and Instagram.