Quick Dish LA: Savor The REAL PAIN Comedy 10.19 in Mid City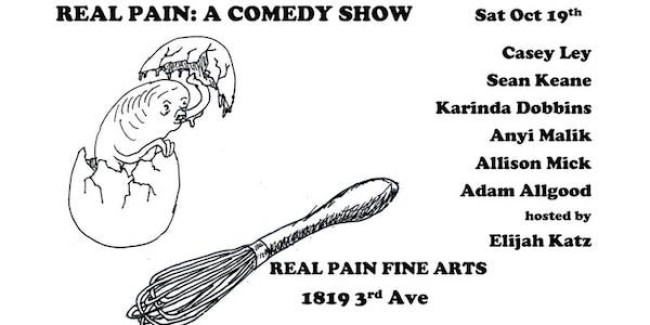 Who's always excited to see the highly creative posters this show has to offer? This gal! From the looks of this one, it appears the contents of that egg will escape a beating. Hooray! Come for a generous serving of REAL PAIN comedy at Real Pain Fine Arts in Mid City this Saturday, October 19th. The event is totally FREE and offers up the best talent in LA and beyond. This go-round you'll be treated to performances from:
Casey Ley
Sean Keane
Anyi Malik
Karinda Dobbins
Allison Mick 
Adam Allgood
hosted by Elijah Katz 
Don't miss out or you'll have egg all over your face. GO! Also, check out Charlyne Yi's voiceover improv of that wonderful poster below:
— Charlyne Yi (@charlyne_yi) October 15, 2019
Mentions: Show 8pm (show starts at 8:15pm) Free! All ages! Real Pain Fine Arts is located at 1819 3rd Ave. Catch the show the third Saturday of each month (except for the November show, psych)! The next show is Nov 9th hosted by George Chen.