Quick Dish NY: Extra Credit Brings You A NIGHT of 1000 SKETCHES 11.20 at The Tank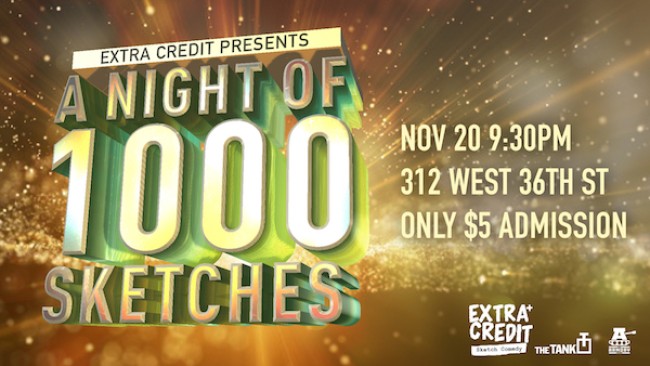 Yes, we promise, Halloween is officially over (despite that toilet papered tree outside). Now just replace the pumpkins with sketches and you have an evening of hilarity on your hands. The Armory collective's house sketch comedy team EXTRA CREDIT will be bringing you an evening of fast paced material with (no joke) ONE THOUSAND short black out sketches for your notification distracted brains. CAN YOU HANDLE IT?! Every Extra Credit is a guaranteed roller coaster of quirky characters and kooky situations, so you just can't go wrong with A NIGHT OF 1000 SKETCHES, kids. Be there for a tight 45 of killer comedy Wednesday, November 20th!
Mentions: Show 9:30pm. Tickets $5. The Tank is located at 312 W 36th St, New York, NY 10018, Corner of 36th St. and 8th Ave. (Closest station, 34th Street Penn Station A,C,E). Follow the team on F/B & Instagram.