Quick Dish NY: QUEER TIGER BEAT 12.11 at Henrietta Hudson
We had snow for Thanksgiving in Cali. SNOW!!! (I guess long underwear season has arrived.) Folks, when LA weather is on par with New York weather, then I guess it's officially WINTER! Guess what else is officially here? MORE QUEER TIGER BEAT! Set your sights on Henrietta Hudson Wednesday, December 11th where Nikki Palumbo (UCB, Reductress) and Taylor Ortega (JFL, Disney) will host the magazine-turned-comedy show of their queer teen dreams. This month the issue will feature this gaggle of heart-throbs to bringing a smile to your smug, frozen faces:
Ana Fabrega (Los Espookys)
Julia Shiplett (Clusterfest)
Glo Butler (Glo in the City)
Caitlin Reese (Women In Comedy Festival)
Chris Shurr (YasFest)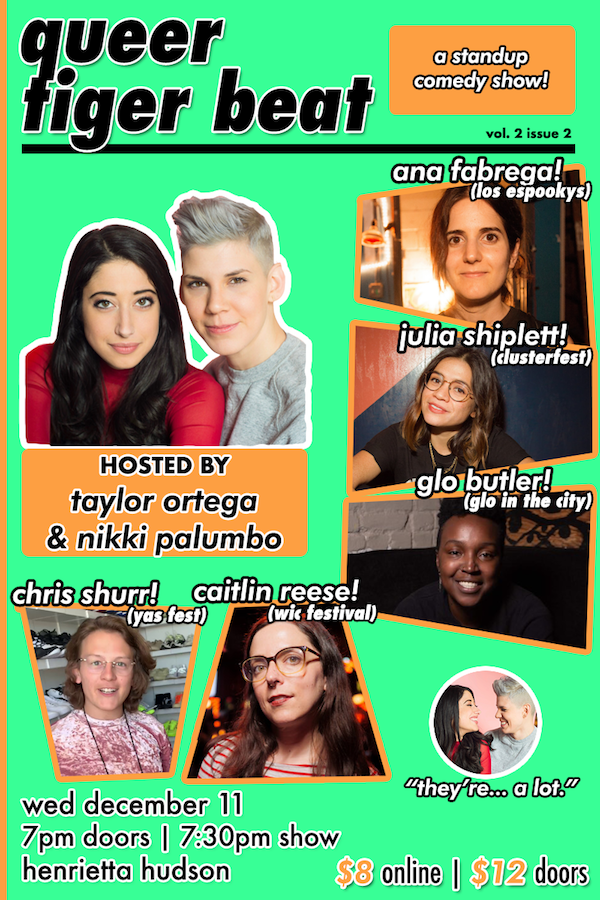 Now go find that glittery holiday sweater and get those Queer Tiger Beat tickets in order.
Mentions: Show 7:30pm (Doors @ 7pm), Tickets $8 online /$12 at the door. Henrietta Hudson is located at 438 Hudson St, New York, NY 10014. 10% of ticket sales will be donated to The Audre Lorde Project.