Quick Dish LA: THE BUSINESS LOS ANGELES 12.9 at Little Joy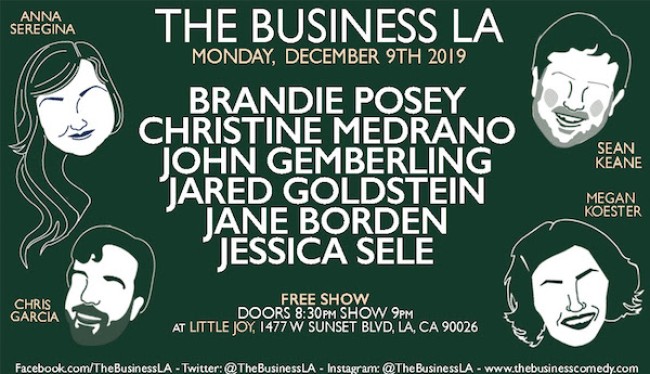 This is the time of year you invest in a good pair of ear buds to drown out the repetitive holiday musak AND it's also that time you DO NOT get in the way of a delivery truck's path. WHOOSH, there went another one! Did we mention it's also that time you should be checking out the pre-tech bubble #SF comedy scene in Los Angeles? Come to THE BUSINESS LA this Monday, December 9th for standup that will melt any grinch's heart. The lineup includes:
Brandie Posey (Lady to Lady)
Christine Medrano (Tribeca Film Festival)
John Gemberling (Broad City)
Jared Goldstein (Time Out Comic to Watch)
Jane Borden
Jessica Sele
Featuring The Biz Gang: Chris Garcia, Sean Keane & Anna Seregina,
hosted by Megan Koester!
Now get back to that holiday prep or anxiety, it's your December to embrace. GO!
Mentions: Doors at 8:30p, Show at 9p. FREE. Little Joy is located at 1477 W Sunset Blvd., LA, CA 90026.