Quick Dish NY: Explore The Past with SKETCHY HISTORY 1.21 at Caveat
When most people hear the word "history" in relation to a comedy show, they recoil in horror. (I may have been one of these people at one moment in time). However, entertainment has come a LONG way, and, well, history NEVER stopped happening; but, it just seems to sound a lot cooler in the way it's presented these days. Case in point, the history sketch show, SKETCHY HISTORY. Tuesday, January 21st, this show will tackle "unsettled times before these unsettled times" at Caveat, a new venue for the show (previously seen at The PIT & UCB).
Painstaking researched, written and directed by comedian/award-winning journalist Malorie Cunningham (ABC News, WhoHaHa, NBC) and Heath Harckham (Food Network, Battle of the Sketches 2019), the show uncovers history's undeniably bad ideas brought to you by talented sketch performers including Victoria Hoffman (Comedy Central, MTV), Michael Baldwin (The Last O.G) and Katie Johangten (UCB, The Office Parody Musical Off-Broadway). Such events could be anything from Ireland's fight over Power Rangers vs. Bill Clinton to the invention of the cat phone. Meow. THIS MONTH the theme of the show is taking on "unbelievable history." Some might think ALL history is unbelievable if you weren't there to see, but that's a story for another time. The night will close with a larger than life, MUSICAL NUMBER, as all history sketch shows should! Come laugh and learn about the most select slices of our past. Enjoy!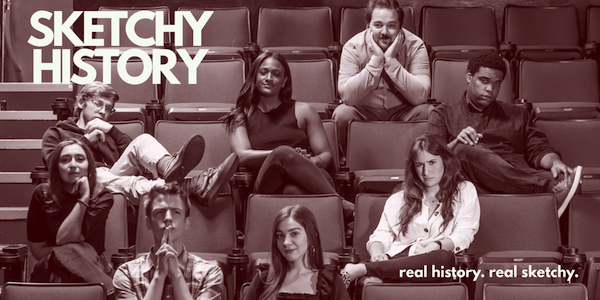 Mentions: Doors 9:00 PM, show 9:30 PM. Tickets $12 in advance, $15 at the door. 21+. Caveat is located at 21 A Clinton Street, Manhattan. More on Sketchy History HERE.