Quick Dish LA: Brett Davis Presents… JOHN GENTLE A Lone-Man Show This Sunday at Lyric Hyperion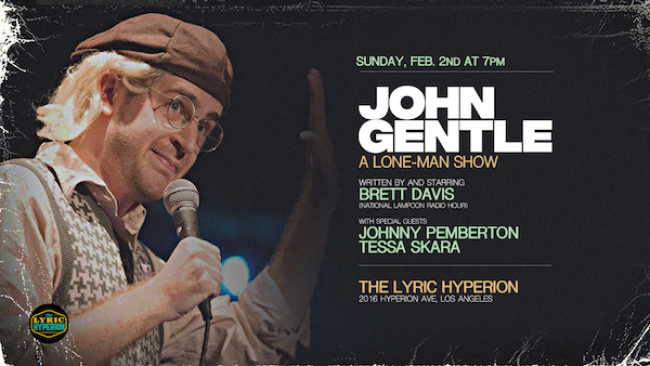 This Sunday, February 2nd at Lyric Hyperion, Andy Kaufman Award-winning comedian Brett Davis (writer and cast member for the National Lampoon Radio Hour, and a voice on Our Cartoon President) presents JOHN GENTLE presenting his "delusional" one-man show. The former adjunct college professor and self-published New Jersey poet will bring the audience an 'unfortunate collection of gauche stories and lewd poems about his past lovers and his, ugh, "Mama"' Double ugh (in a good way)! With Valentine's Day just around the corner, this will definitely makes things interesting for date night. The evening will include special guests Johnny Pemberton & Tessa Skara. Don't miss out!
Mentions: Show 7pm. $12 tickets HERE. Lyric Hyperion is located at 2106 Hyperion Ave. Los Angeles, CA 90027.