Quick Dish NY: '2020 VISION The Next Celebrity President' Impressions Show 2.20 at Improv Asylum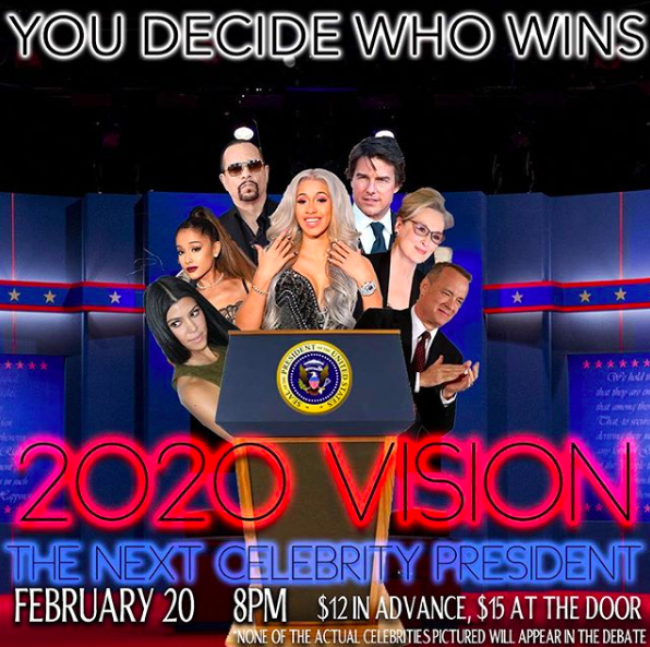 Happy Presidents Day! We hope you have the day off, and, if you don't, we hope your commute was as devoid of annoying humans as possible. If you would like to carry the holiday vibe into the work week, then it's time for some 2020 VISION. This Thursday at NYC's Improv Asylum meet "The Next Celebrity President!" Come see your favorite celebs debate each other to become the next person barking out all the orders. The hour-long show will feature comedians performing impressions of celebs like Billie Eilish, Kourtney Kardashian, Tracy Morgan, Kourtney Kardashian, Cardi B, Tom Hanks, Ice T, and more! And because it's a democratic event, the audience will get to choose the winner! The show will be hosted by Alex Preston with these talented performers taking the stage:
RACHAEL BURKE is BILLIE EILISH (Tonight Show Starring Jimmy Fallon, NBC's Bring the Funny)
KEVIN COBBS is PAUL MCCARTNEY (Comedy Central, Sesame Street)
LAGINA HILL is WHOOPI GOLDBERG (Winner of the 2019 Women in Comedy Festival/HBO Pitch Your Pages competition, UCB Characters Welcome)
CAROLINE CASTRO is JENNIFER LOPEZ (Magnet House sketch teams, "I Feel Funny" digital sketch show)
Come for the "catchy slogans, campaign speeches, and opinions," stay for the time away from doing your taxes. Enjoy!
Mentions: Show 8pm. $12 online/$15 at the door. This show was created and is produced by Rachael Burke (The Tonight Show Starring Jimmy Fallon, NBC's Bring the Funny) and Alex Preston (Tonight Show starring Jimmy Fallon, MSNBC). Improv Asylum is located at 307 W 26th St, New York, NY 10001 (nearest trains: 1, 2 at 23rd & 28th St Station; A C E at 23rd St, many options at Penn Station/Cross Streets: 26th St & 8th Avenue, NYC). Follow the show on Twitter & Instagram.