Quick Dish NY: Don't Miss Gary Ferrar's NOTHING HERE IS REAL Comedy/Magic Residency at The Oxbow Tavern
GARY FERRAR'S magic show, Nothing Here Is Real, returns to the Upper West Side for it's SECOND year in residency. Picture the cozy setting of Chef Tom Valenti's Oxbow Tavern where magic and comedy will intertwine in a delicate dance of entertainment. Ferrar, one of the country's most sought after magicians/mentalists, has performed at over 800 venue in the last 10 years. He's made TV appearances on NBC & Fox, and his clients include the celeb and corporate crowd. For this particular parlor show, brush aside those old fashioned black turtlenecks and rabbit out of hat tricks. This show mixes humor, charm, and the unexplainable into 90 minutes of mind twisting amusement you won't see anywhere else. You'll be thinking about long after the show over, so don't miss out! This Sunday's show is already sold out, BUT there's more dates below to tickle your fancy:
Sunday, March 29 @ 7 pm
Sunday, April 26 @ 7 pm
Sunday, May 31 coming soon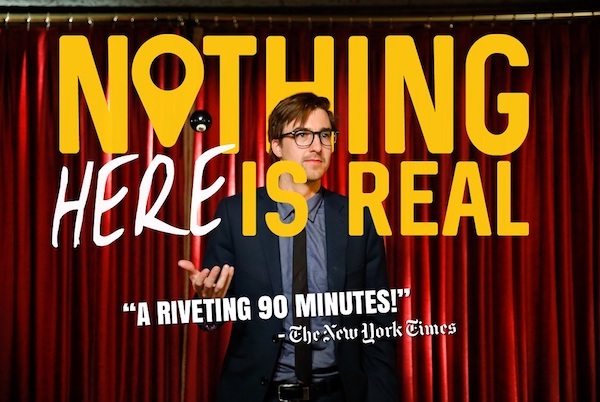 Mentions: Ticket info above. The Oxbow Tavern cocktail lounge is located at 240 Columbus Ave, New York, NY 10023 (corner of West 71st Street). Subways: 1/2/3/A/B/C to 72nd Street. The open-ended run is directed by collaborator and magician Harrison Kramer. The show is produced by Mike Jacobson (Comedy Central) with Teagan Brown serving as consultant and show performer. Nothing Here Is Real is geared towards adult, but appropriate for ages 10 and up. Follow Ferrar on F/B, Ig, Twitter, & YouTube. Feature photo by Harrison Kramer.