Quick Dish: STONED vs DRUNK vs SOBER Comedy Competition is a Must Attend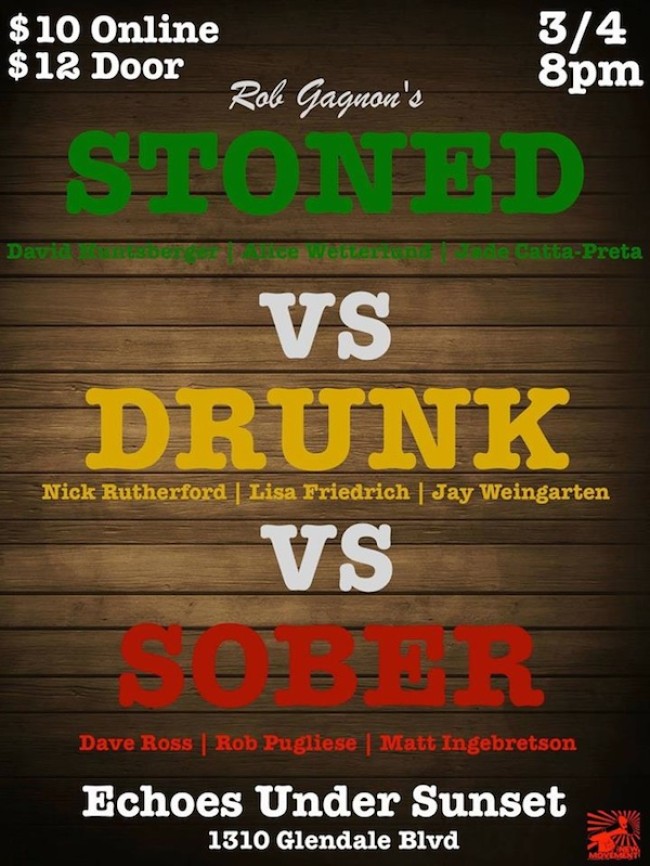 Echoes Under Sunset welcomes Rob Gagnon's Stoned vs. Drunk vs Sober Comedy Competition today, March 4. Austin based stand-up Rob Gagnon is the creator of this epic match of comedy wits. Gagnon has also hosted Block Party, ATX Comedy Hour, 50 First Jokes (Austin), Pass The Mic and coordinated the 1Hr Comedy Festival. Tonight there will be "three groups of comedians performing comedy challenges to determine which state of mind makes for the best performance." Consider this event the litmus test of how an audience likes their comedy, be it "smokey, wet or pure".
Behold your competitors for the evening:
STONED: David Huntsberger, Alice Wetterlund, Jade Catta-Preta
DRUNK: Nick Rutherford, Lisa Friedrich, Jay Weingarten
SOBER: Dave Ross, Rob Pugliese, Matt Ingebretson
To the winner go the spoils!
Lyft has collaborated with the event and is offering a free $20 ride to anyone who hasn't taken their first ride yet. For details check out the "Stoned vs. Drunk vs Sober" Facebook Page.
Mentions: Show 8pm at Echoes Under Sunset. Entrance $10 Online, $12 Door.