Tasty News: '2020 VISION The Next Celebrity President' Impressions Show Tonight on Twitch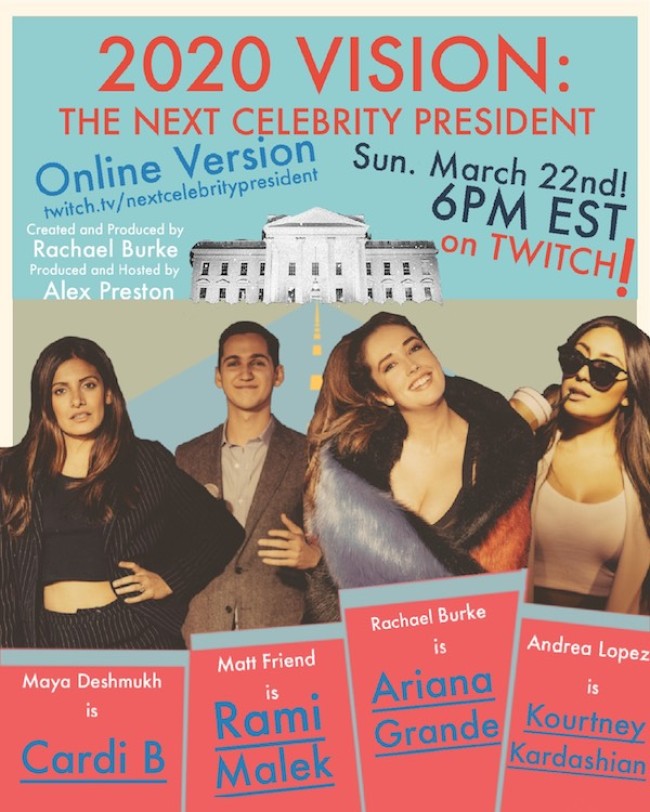 Is the confinement getting to you? Do you need a good distraction from all the insanity? Then head on over to Twitch this evening for 2020 VISION: The Next Celebrity President show. The livestream begins at 6pm EST! You will be treated to your favorite (impersonated) celebs debating each other other to become the next head honcho in charge. Created and produced by Rachael Burke (Kids These Days, Fallon) and hosted (also produced) by Alex Preston, the show features real debate questions being flung from a moderator. Show performers will include:
Maya Deshmukh as Cardi B
Matt Friend as Rami Malek
Rachael Burke as Ariana Grande
Andrea Lopez as Kourtney Kardashian
You may be trapped between four walls but that doesn't mean you can't still laugh!
Mentions: Show 6pm EST. Twitch link: https://www.twitch.tv/nextcelebritypresident/videos. Be there!