Quick Dish: SEE 'The Sequel Show' Tomorrow 5/29 at NerdMelt Showroom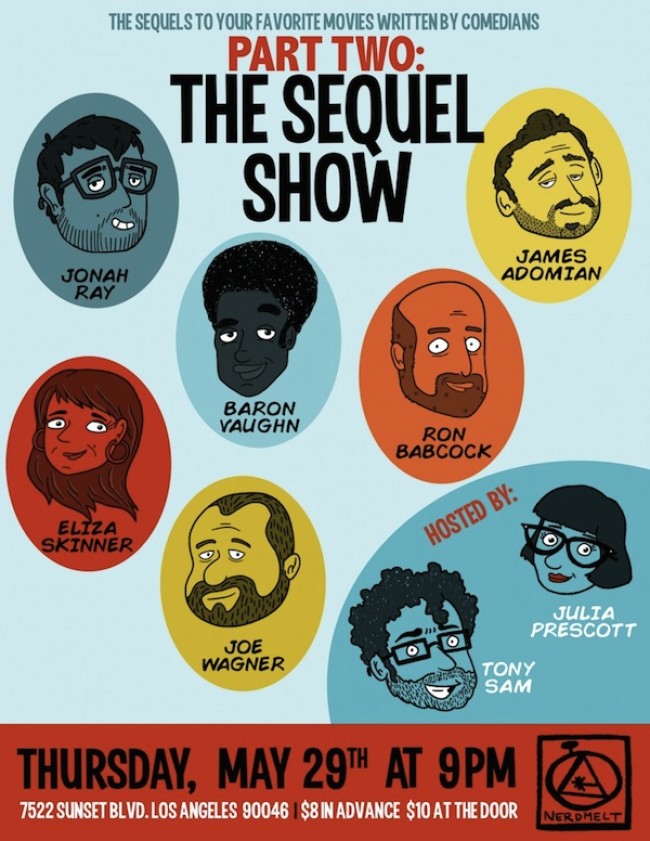 What's better than the original? The SEQUEL, of course. Thursday, May 29th the Nerdmelt Showroom presents The Sequel Show AKA The Pitchies. The 64th Annual Pitchies will be hosted by Tony Sam and Julia Prescott who will bring you a tremendous line-up of comedians pitching their sequels, musical acts and other Award Show surprises. These comedians will be pitching sequels to your favorite movies:
Baron Vaughn
Eliza Skinner
The devil stick styling Ron Babcock
James Adomian
Jonah Ray
And Lifetime Achievement Award Winner Joe Wagner
At the end of the show, the studio audience will vote on who receives the coveted title of, "Best Pitch." To the winner go the sequel spoils!
Mentions: Show 9pm. Buy tickets for The Sequel Show HERE. The NerdMelt Showroom is located at 7522 Sunset Bl., Los Angeles.