Quick Dish Quarantine: HOFF'S PUBLIC DOMAIN HORRORFEST Presents "The Wasp Woman" 7.15 on Twitch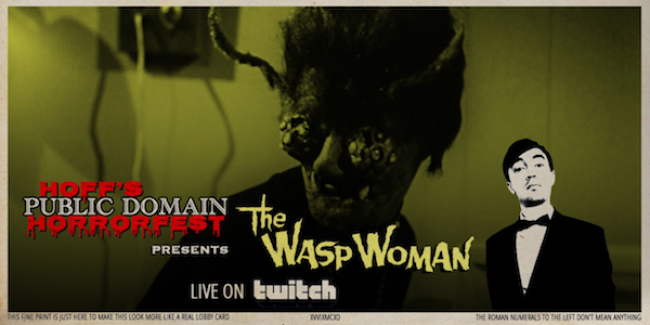 This Wednesday, July 15th get your giggles and creeps on with an ALL NEW HOFF'S PUBLIC DOMAIN HORRORFEST. Join your practically waxlike host Hoff Matthews in his serene chamber as he presents Roger Corman's 1959 black and white sci-fi horror flick "The Wasp Woman, " starring Susan Cabot, Anthony Eisley, Michael Mark, and Barboura Morris. Apparently hungry mosquitos sucking out your innards are not all there is to be terrified of this summer. The founder/owner of a cosmetics company agrees to some questionable experimentation after discovering her own time-fueled deterioration isn't appealing to her customer base. How far will Janice go to make that mad cash and tap that wasp royal jelly fountain of youth? We can can only guess it's ALL THE WAY! Join in the totally BUZZ worthy screening as you age somewhat peacefully. Wednesday's show will feature special guest Sam Corbin (Vocabaret, New York Post) and includes jokes and skits from host Hoff Matthews and co-producers Andrei Alupului (Come Ova, UCB), Marybess Pritchett (An Inconvenient Talk Show) and George Gordon (Laugh Track Festival, Your Good Friend). The wasp nest gets poked on Twitch this Wednesday, n00bies!
Mentions: Stream 9pm EST. FREE. Twitch link HERE. This show is produced by Hoff Matthews, Andrei Alupului, George Gordon and Marybess Pritchett!