Quick Dish Quarantine: PICTURE THIS! Live Animated Comedy 9.12 on Zoom
You just know life is stranger than fiction when you read that a pilot reported seeing a "guy in a jetpack" at about 3,000 feet when the plane was approaching the airport. Excusez-moi? Now THAT'S quite a UFO sighting! Something a little less strange, and a lot more fun, will be happening Saturday, September 12th on ZOOM. Join PICTURE THIS! for another digital adventure featuring comedy and animation. Your only "Live Animated Comedy Show" will bring both coasts of artists & comedians together thorough the wonders of live online streaming. Your lineup will include:
Jared Goldstein (Time Out LA Comic to Watch)
Josh Gondelman (HBO)
Alex English (National Lampoon)
Luke McGarry (Sad Chewie)
Cat Baldwin (Elle)
Dan Pinto (Nick)
Mike L. Mayfield (Netflix)
& comedy AND animation from Mary Houllihan (Adult Swim)
Hosted by Brandie Posey (Lady to Lady)
Now get out there and deeply inhale the fresh air through your acne-inducing face cover.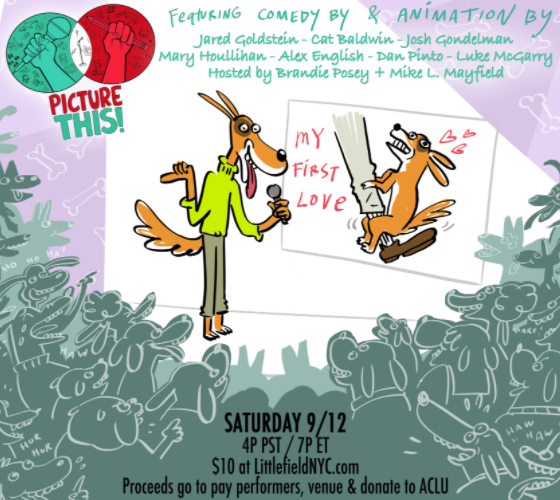 Mentions: Show 4p PT / 7p ET. $10 suggested donation with proceeds going to pay performers and the non-profit of the event. Get tix HERE. 18+/PG-13 recommended (not for children, there will be cartoon nethers).