Quick Dish Quarantine: HOFF'S PUBLIC DOMAIN HORRORFEST Returns October 1st on YouTube with "The Little Shop of Horrors"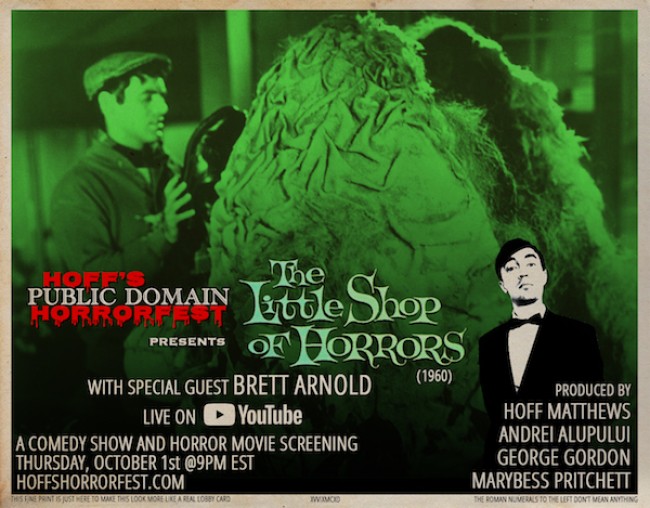 Maybe the most frightening thing of all is that, even after a summer hiatus of Hoff's Public Domain Horrorfest, we are STILL in quarantine! *Blood curdling screams in the distance* It's a good thing we have movie screenings and comedy to keep us just sane enough to get through the 2020 madness. October 1st your host Hoff Matthews (Comedy Central) is back (after a restful time in the crypt) to bring you the premiere screening of Roger Corman's 1960 classic, "The Little Shop of Horrors." Long before Rick Moranis was the inadequate Seymour Krelboyne fitzing around with plants, Jonathan Haze was playing the florist's assistant with a knack for cultivating blood thirsty plants. Yay, for cult favorites! October's show will kick off with special guest Brett Arnold, host of "The New Flesh" horror movie podcast, exploring horror news, trailer breakdowns, new film releases and more! You will also be treated to the customary platter of brand new comedy segments, games and witty interstitials. In other horrifyingly great news, check out the Horrorfest's brand new website, www.hoffshorrorfest.com for all the gorey details you could desire. Tune in for an evening you'll never get out of your mind.
Mentions: Show 9pm EST. FREE on "Hoff's Public Domain Horrorfest" YouTube Channel. More info at www.hoffshorrorfest.com.