Quick Dish Quarantine: PICTURE THIS! Live Animated Comedy Show 10.10 Online
Saturday, October 10th enjoy live animated comedy on Zoom with PICTURE THIS! Brandie Posey and Sam Varela continually push the boundaries of what a comedy show can deliver, even in the most challenging of times. All you quarantined folks yearning to be entertained, rejoice! This October you will be treated to (hopefully not tricked into) another livestream event featuring stand-ups, voice actors and more performing while being drawn live by the best animators, cartoonist, and other artists in the business. Neither party knows what the other is up to in this merging of art forms, which makes it all the more devilishly exciting. This month's lineup will include:
Guy Branum
Atsuko Okatsuka
Shalewa Sharpe
Chloé Hilliard
Mike Hollingsworth
Jason Chatfield
Ashlyn Antsee
Edel Ferri
Dan Pinto
Hosted by Ian Fidance
You only need move a fidgety finger to experience unparalleled, unique entertainment. Happy spooky 2020!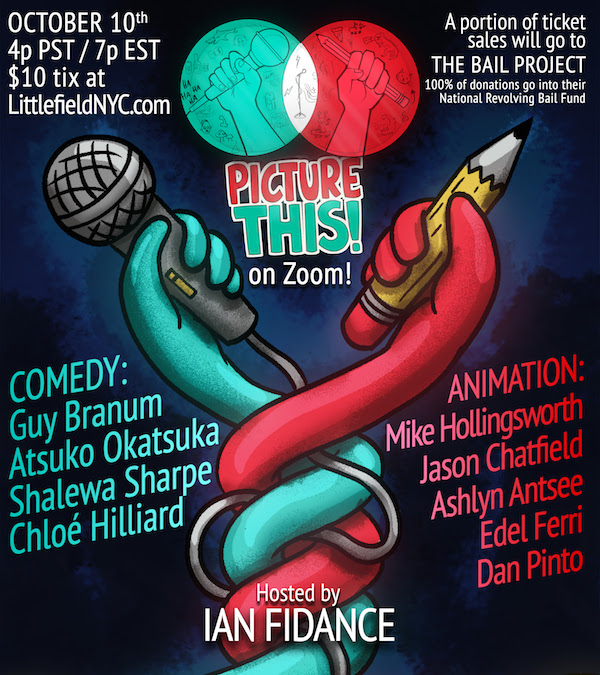 Mentions: Time 4m PST/7pm EST. Show $10. Buy tickets HERE. Proceeds go towards paying the performers, venue, and other causes/charities/non-profits/funds. 18+/PG-13 recommended. Not safe for children.