Added on December 18, 2020
CakeMama
Born Crying Die Laughing , Comedy , Comedy Records , Garrett Jamieson and Sprattacus , music
Layers: GARRETT JAMIESON AND SPRATTACUS' Sophomore Album "Born Crying Die Laughing" Will Have You High off of Canadian Comedy Experimentation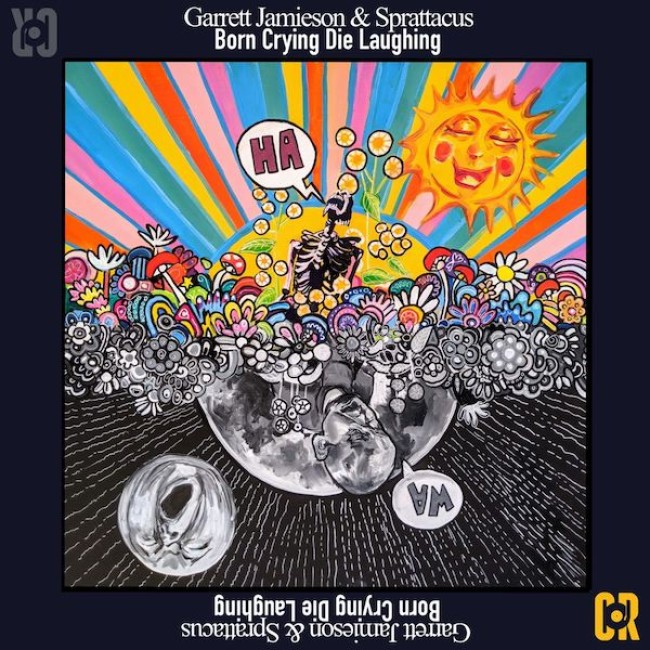 So what the heck are you going to do once you watch the season finale of Mandalorian? No, seriously, WHAT ARE YOU GOING TO DO?! Why not transition to the sophomore offering from Canadian experimental comedy collective Garrett Jamieson and Sprattacus. Born Crying Die Laughing is ripe with diverse musical genres, haiku, and an abundance of ham (which we could all use loads of right now). The album is now out Comedy Records and takes an absurdist look at life, death, the multiverse, familial emotion, weed laws, and so much more. Recorded in late 2019 at The Underground Cafe 420 in Toronto, Born Crying Die Laughing features performances by Ryan Spratt, Mike Murray, Jen Pos, Josh Park, Savic Panylyk, Justin See, Jack Moves, and, of course, frontman Garrett Jamieson (The BOOM, KEN), who's hyper enthusiastic, interactive delivery makes the more daunting topics all the more palatable.
Time may be a flat circle, but this album is a rotund sphere ready to pop with playful rhymes, jabs, and quips. With a cursory listen, one may just hear clever lyrics, observations, and confessions, but with some introspection, the listener will be left questioning some fundamental codes of being. Am I actually happy? Is there life beyond this realm? Will comedy help me accept my impending end? Do I have an f*** face? (More about that later.) Did this band just poison my water? I haven't research the whereabouts of this audience, so I'm really not sure about the answer to that last question. Gulp. Assuming they survived the performance, I'm sure they will agree that this album has a lot to offer.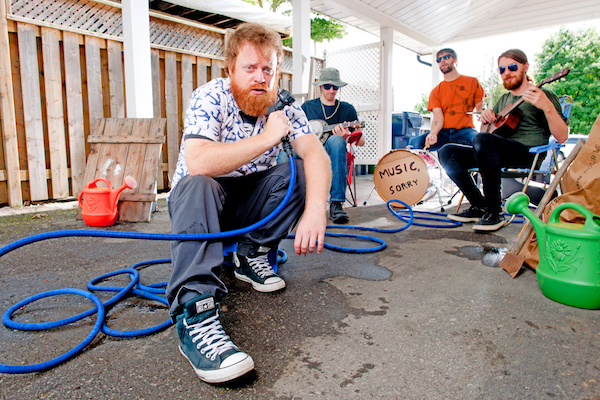 I don't think my life will ever be the same after taking in the jokes of the "Multiverse" track. The entirety of space, time, matter, energy, information, physical laws and constants explained through the dissection of jazz, deserved mockery, and perhaps the corniest time travel joke in existence? Is it possible? Yes, and also, PAST-A! Don't worry, like The Matrix, you'll understand what's happening soon enough. Pssst, "the one" may or may not be involved. I don't know what your relationship is with your family, but if you have some dad issues, the tracks "Dad Song" and "Thailand" will leave even the most cold-hearted among us open to the need for a paternal hug. Remember, those tears are from the wind!
Id' be remiss if I didn't end my favorite track list with the "Image of God." That's right, Garriet Jamieson and Sprattacus go there, but not in the way you think. No religion will be insulted (and least not too much), but believers and non-believers WILL be forced to "face" the fact there is a common thread that runs through all of us. Luckily, it's a hilarious one and hopefully brings us all a tiny bit closer. So on that note, Born Crying Die Laughing has the potential to make you laugh and cry, but more importantly, it will make you happier you are on the motorcycle-like ride. Now go get those Zoom hugs!
Mentions: The album is available today on Spotify, Google Play, Apple Music and more. Follow the collective on Twitter and Instagram. More about Comedy Records HERE. BTW, don't think we didn't notice that clever album art! Kudos @montinaart!