Video Licks: The Dream of Improv is Real in The Wildly Addictive Web Series THE BASICS
By the divine hand of the internet, this wonderful series has graced it's way into Comedy Cake's clutches. Thank you, digital swami, because The Basics is just the series we've been waiting for! It has all the heartfelt quirkiness of a PEN15 and the zany comradery of a Broad City, but still remains unique to it's own hysterical end (of the first season). The web series was created by NYC comedians Rachel Horwitz, Mahayla Laurence, Elizabeth Demmon, Chloe Troast, and Jamie Linn Watson and directed by Mary Clare Plaschke and Ryan Beggs. The show includes an all-star roster of supporting cast members who absolutely rock, Rachel Sennott (Call Your Mother), Moss Perricone (Patriot Act), and Alex Song-Xia (The Week Of), as well as the entirety of the sketch group Please Don't Destroy (John Higgins, Ben Marshall, and Martin Herlihy), PLUS a special appearance by Paul Marcarelli. The Basics just so happens to be an official selection at the NY Lift-Off Film festival, where the pilot, unsurprisingly, won the audience vote.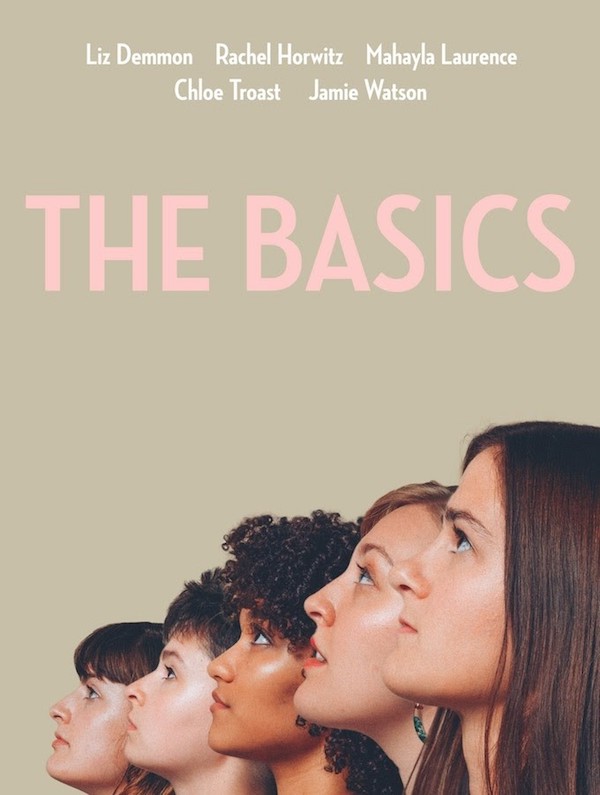 So what's it about? I will tell you! The series focuses on a group of friends who are foisted into the improv world after friend MJ (Jamie Linn Watson) is introduced to this foreign world on a date with a f**boi. Each episode of the first season concentrates on a member of the girl squad, giving the viewer a wealth of character development. According to the series creators, the work is 'an exploration of femininity in comedy and the freedom that comes from denying the usual "gender norms" of the improv scene.' We'd say The Basics also speaks to the thrill of trying new things, the dread of pushing boundaries, and, ultimately, the lesson of embracing one's failures. We've done our due diligence and broken down each episode for you. Once you start, we promise you will find yourself uncontrollably clicking to the next episode. Also, I'm going to dress as end-scene Tiggy for Halloween 2021. Enjoy!
Episode ONE: MJ – Queen of the girl bosses™, MJ (Jamie Linn Watson), goes on a date, only to discover she's found her dream job of improviser. Cousin Tiggy unexpectedly moves in, and MJ recruits her squad into the improv fold. Will their first performance with a drunken audience be a success?
Episode TWO: Becka – Becka (Rachel Horwitz) finds herself in a funk. Not only is she confronted with the impossible task of convincing her lover to share a room, but also finding the fun in life. Encouraged to deface her body (thanks Tigg) with her favorite logo, she must face her decision as the "Slut Prov" performs in front of some very important Hollywood types.
Episode THREE: Maegaen – A woman who seems to have it all, is ready to throw it all away for the love of improv. Maegaen (Mahayla Laurence) drops her psychiatrist, confronts the boss lady about quitting her job and promotion, and is excited to learn about the Sip and Laugh Rosé Improv Festival from the team's new manager. Is it all one big mistake?
Episode FOUR: Tiggy – This character is, hands down, my favorite of the bunch, particularly because she reminds me of a human version of Bob's Burgers' Louise Belcher. Initially, we believe she's just a total screw up, but upon exploration of her backstory we find she may be more clever and well-off than we realize. Looks like Tigg's (Chloe Troast) life is filled with Twizzlers, a post-Zoology degree life of pre-K, Met Galas invites, lotto wins, court side snuffs, and a deep-seated hatred of the squad "pal" Kendyll.
Episode FIVE: Kendyll Lyndsay – After Kendyll (Elizabeth Demmon) runs into the girl of her dreams, she must deal with a serious threat from Tiggy. Will makeover time turn into both ultimate betrayal and a major problem for the improv team? Only one way to find out!
Episode SIX: FINALE – What the team thinks is the Sip and Laugh Rosé Improv Festival turns out to be something much more like Weekend at Bernies. Can they keep it together under pressure? Will their dreams be dashed or will the group learn some vital life lessons. Don't worry, you will laugh either way!
Mentions: You can re-watch the series in it's entirety on Vimeo. Looks for Basics updates at their website. Follow the series on IG.