Quick Dish Quarantine: F**K Z**M Marathon Comedy Fundraiser 3.13 Online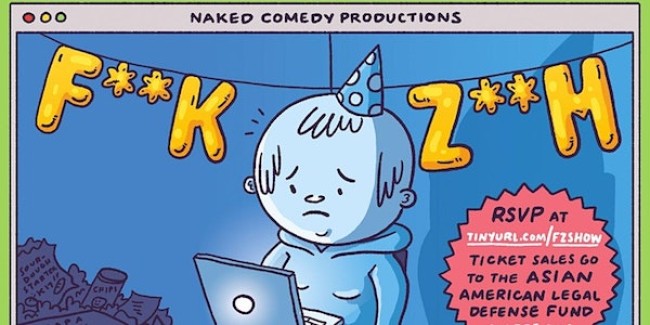 Who else is looking forward to the day when we can enjoy comedy in a theatre (be it a make-shift stage at a coffee house, bookstore, or laundromat)? The audience is NOT the only party ready for quarantines to end. Join your favorite comedians Saturday, March 13th to hilariously mourn a year of working on Z**m with the F**K Z**M comedy fundraiser. The marathon comedy show will be hosted by Jared Goldstein and Hannah Pilkes welcoming a bevy of performers to entertain you… the ONLY way they can right now:
Addie Weyrich, Atsuko Okatsuka, Bowen Yang, Carl Tart, Chloe Fineman, Christine Medrano, Cole Escola, Dana Donnelly, Danielle Perez, Demi Adejuyigbe, Dewayne Perkins, Fumi Abe, George Aivaliotis, Greta Titelman, Hannah Einbinder, James Austin Johnson, Jenny Gorelick, Jenny Yang, Jenson Titus, Julia Shiplett, Lindsay Adams, Maddie Connors, Mary Beth Barone, Matt Rogers, Mic Nguyen, Nic Shepard, Nori Reed, Sarah Squirm, Tien Tran, Travis Coles, Yedoye Travis & Zach Noe Towers
Ticket sales will go to The Asian American Legal Defense and Education Fund. See ticket details below! Now go exercise those gluteal muscles before they go stale.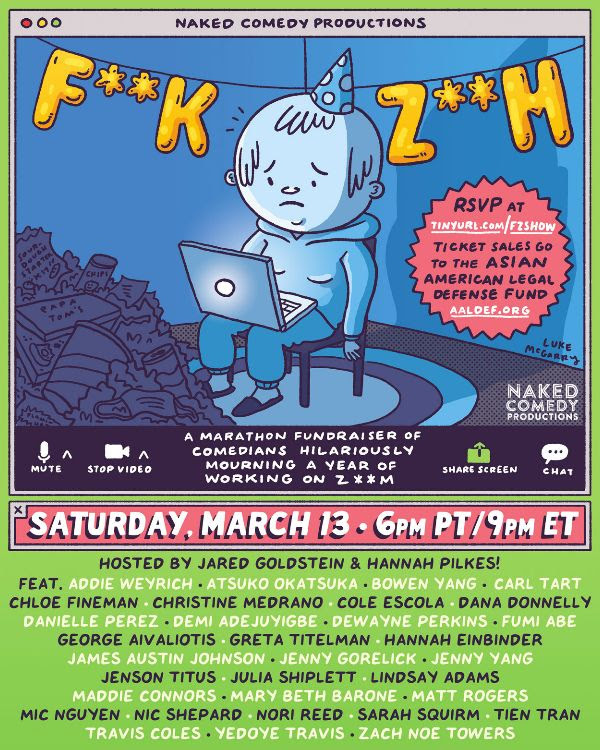 Mentions: Show 3.13 at 6p PT/9p ET. RSVP on Eventbrite now for the private YT link.