Quick Dish Quarantine: SATURDAY 4.24 Join EVER MAINARD for "What's Your Problem, Sir?" SUMMER PLANS EDITION
Hope you had a thoroughly grand weekend because we've got even MORE comedy for you to take in this SATURDAY, April 24th! Join comedian EVER MAINARD for a hilarious, yet vulnerable interactive night of comedy! Ever will, once again, be bringing a lucky virtual audience a new edition of WHAT'S YOUR PROBLEM, SIR! With what could be "the most important summer of our lives" approaching, it's necessary to ask the important questions like:
What do you think about it?
Is this a bikini year for you?
Ready to visit family or sad the permanent excuse not to visit has ended?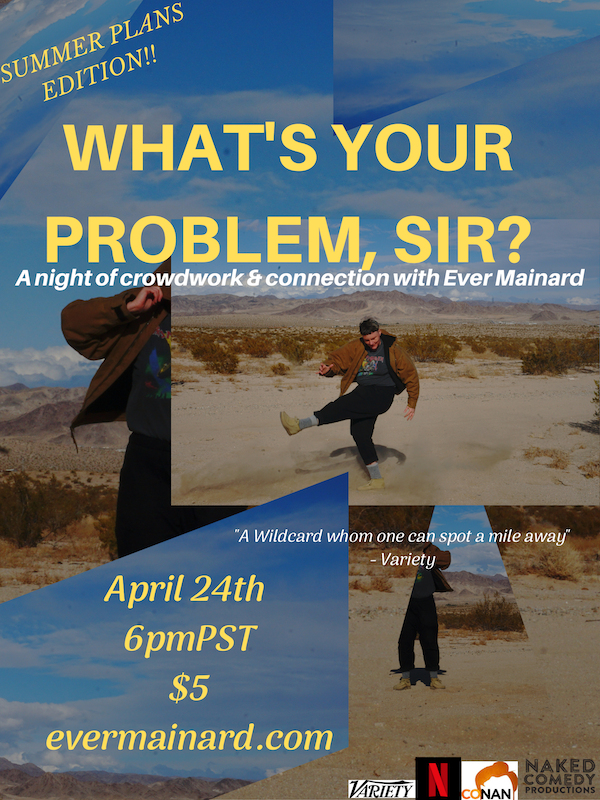 FYI, we may be going with that second option of question three. Anyhoo, there's so much to learn as Ever uses their skills of storytelling, improv, and crowd work to create "cathartic moments of connection through digital crowd work" with the audience. Don't miss this opportunity to talk about "your goals, your joy, your worries, your frustrations," and your glorious summer 2021 plans! Enjoy!
Mentions: Show 6pm PT/9pm ET. Grab those $5 tickets HERE. Follow Ever on Twitter & Instagram.