Quick Dish NY: This Saturday 9.4 Join SHOT4SHOT Online with A "Good Will Hunting" Remake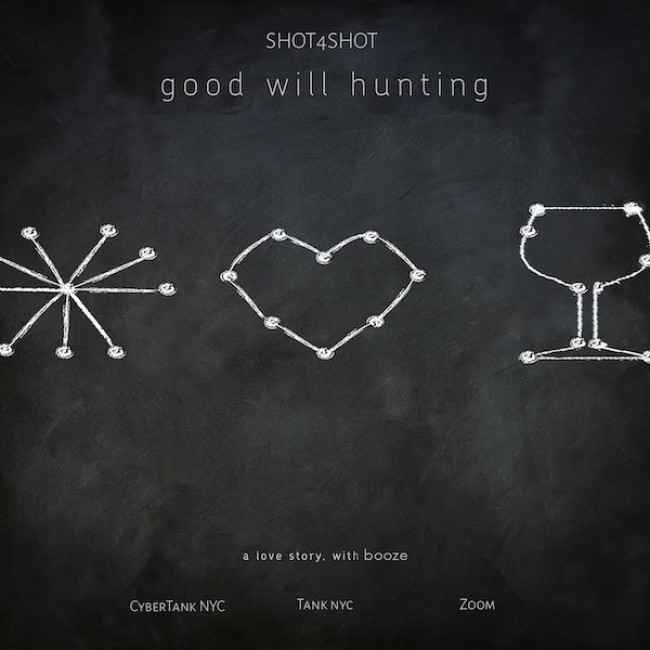 SHOT4SHOT is a drinking game with a movie problem. Your main problem right now is finding the perfect apéritif to complement SATURDAY'S evening of mirth. Join your band of merry creators as they offer the online audience equal parts script reading and drinking game, with some cosplay and improv bits thrown in, for good measure. The CAST you will NOT want to miss bringing you the Gus Van Sant directed American psychological drama and Oscar baby, Good Will Hunting, will be none other than:
Stage Directions/Drink Ref… Amelia Morgan
Will… Lauren Kneteman*
Chuckie… Andy Fitch
Skylar… Kathryn Fabbroni*
Lambeau… Heather Jewels Booth
Sean… Leah Evans
Tom/Judge Malone/Student/Dytress… Melissa Parker Caron
Billy/Executive 1/Front Desk Security Guard… Audrey Marie Sprouse
Morgan/Executive 2… Ro Rovito
Henry/Friend 1/Prosecutor… Marcus Haugen
Terry/Officer/Hypnotist/Executive 3…Joel Shaughnessy*
Timmy/Lydia/Vinnie… Kevin Tully
WE GUARANTEE you have never seen this cry fest of a film like this before! I'm not bawling, YOU are. Enjoy!
Mentions: Online show 9:30pm on Zoom. RSVP shot4shotnyc@gmail.com for your virtual show invite. Follow Shot4ShotNYC on IG and US too.