Tasty News: JUST FOR LAUGHS Announces the Winners of the 2016 JFL Awards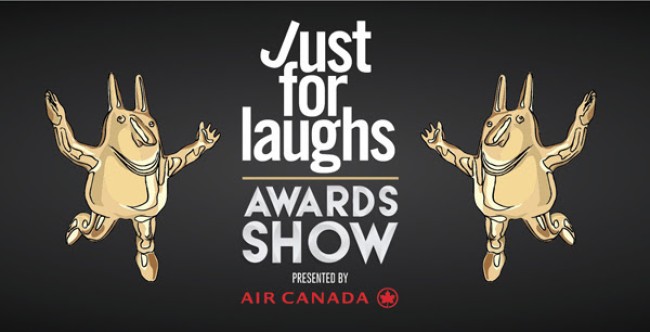 I usually don't agree with the decisions outside forces make regarding comedic accolades but in this case I'm totally on board. Just For Laughs just announced the winners of the 2016 JFL Awards and they couldn't be more spot on choices:
Comedy Person of the Year: Aziz Ansari.
Stand-Up Comedian of the Year: Sebastian Maniscalco
Breakout Comedy Star of the Year: Maria Bamford
Comedy Writers of the Year: Mike Judge and Alec Berg (Silicon Valley)
Alone Ansari's Netflix comedy series, Master of None, is just enough to make him deserving of this award. However, in addition to starring, writing and directing the series the Parks & Rec vet was one of the only headlining comedians to sell out Madison Square Garden in NYC and his first book, Modern Romance, debuted as #2 on New York Times "bestseller" list. It's a no brainer.
Sebastian Maniscalco often poses the question "What's Wrong With People?" but in this case there's absolutely nothing wrong! The Chicago born comedian has appeared on such notable late night shows like The Tonight Show Starring Jimmy Fallon, Late Night with Seth Meyers and Conan. Last year he had eleven sold-out performances at the Just For Laughs Festival and will make several major motion picture appearances this year, including The House (starring Will Ferrell and Amy Poehler), indie drama Cruise, and a voice-over role in the animated feature Nut Job 2. Congrats!
What's not to love about Maria Bamford? She's been a star in our hearts way before she was splattered across our Netflix. Heck, this woman was always destined for greatness! She's quickly become a household name as the star and executive producer of Lady Dynamite, her original comedy series on Netflix where she plays a fictionalized version of herself. Other amazing credits she possesses include being the first female comic to have her own two half-hour Comedy Central Presents specials, creator and star of Maria Bamford: the special special special and of the cult favorite, The Maria Bamford Show, plus her voice-over work in BoJack Horseman, Adventure Time, Legend of Korra, Puss in Boots and PBS's Emmy-winning series, Word Girl. This honor couldn't be more deserved!
Of course, we couldn't forget the writers/directors/exec producers that make Silicon Valley one of our all-time favorite comedies on television. Mike Judge (King of the Hill, Office Space, Idiocracy) and Alec Berg (Seinfeld, Curb Your Enthusiasm) have made the world of tech startups accessible to outsiders in the funniest way possible. It's no surprise HBO announced the renewal of the series for a fourth season. You can bet these men will top what they've already accomplished. Nerds rule!
All five of these talented winners will receive their awards at the Just For Laughs Awards Show presented by Air Canada, and hosted by JB Smoove, on Friday, July 29 at 4:30 pm at the Grand Salon Opera, Hyatt Regency Montreal, part of JFL ComedyPRO. The Just For Laughs Festival runs from July 13 to August 1, 2016 in Montreal, Canada. Just For Laughs ComedyPRO runs from July 27-30, 2016 at the Hyatt Regency Montreal, Canada. Be there!
Mentions: For more JFL 2016 info click HERE.