Tasty News: Listen to The First Two Episodes of TREKS and the CITY on The Forever Dog Podcast Network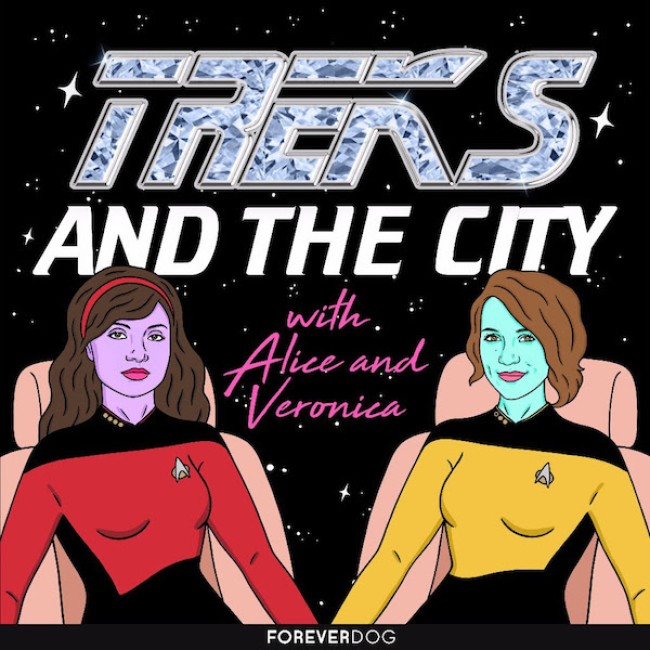 As a lady geek, I'm always excited to learn of empowered females proudly parading their nerdom. In the new podcast, TREKS AND THE CITY, two notable ladies of comedy, acting and geekdom do just that by taking you on an episode by episode journey fondly (and sometimes not so fondly) dissecting the much beloved sci-fi series Star Trek: The Next Generation. I'm a fan of the entire Star Trek universe and beyond, so finding out Silicon Valley's Alice Wetterlund and Veronica Osorio (Adam Ruins Everything, Hail Caesar!) were bringing a feminist perspective to this ST:TNG roundtable, I was pumped. The first two episodes dropped yesterday on the Forever Dog Podcast Network. The premiere episode features guest Demi Adejuyigbe (Gilmore Guys) who has written for one of my favorite shows The Good Place. Squee! Your devoted lady hosts break the podcast ice by delving into how their Star Trek fandoms were born and then dive into that pivotal first episode in good company. Kids, the words "Fashion Intruder" are forever tattooed to my brain after this episode.
Alice and Veronica welcome the other half of Gilmore Guys podcast, Kevin T. Porter, for the second Treks & The City episode. This time the ladies continue their examination of the two-part pilot "Encounter at Farpoint" ranking the TNG characters by their compelling attractiveness. Oh my! Riker's my pick any time of day. Meeeeeow! Please check out this podcast because it's putting out so much good in the world and doing it with puns and chuckles. Enjoy!
Mentions: All hail Roddenberry! Catch more episodes of Treks & the City at Forever Dog, iTunes & SoundCloud.