Quick Dish NY: THE STORY COLLIDER 8th Anniversary & Fundraiser 5.1 at Caveat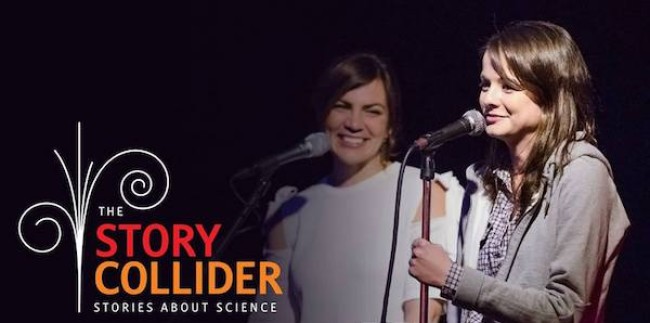 Join the science-loving STORY COLLIDER gang for their first-ever fundraiser and 8th anniversary celebration Tuesday, May 1st at Caveat. Join in on this intimate evening hosted by two-time Moth GrandSLAM champion and Story Collider Artistic Director Erin Barker, along with special guest, New York Times bestselling author Ed Yong. The Story Collider, is a nonprofit org dedicated to sharing genuinely personal stories about, wait for it, SCIENCE! Those stories can be poignant, hilarious and everything in-between. You special guests for the evening will include
Arielle Duhaime-Ross (VICE journalist)
Josh Gondelman (Emmy-winning comedian, Last Week Tonight)
Dr. Jo Handelsman (associate director for science and technology policy under former U.S. President Obama).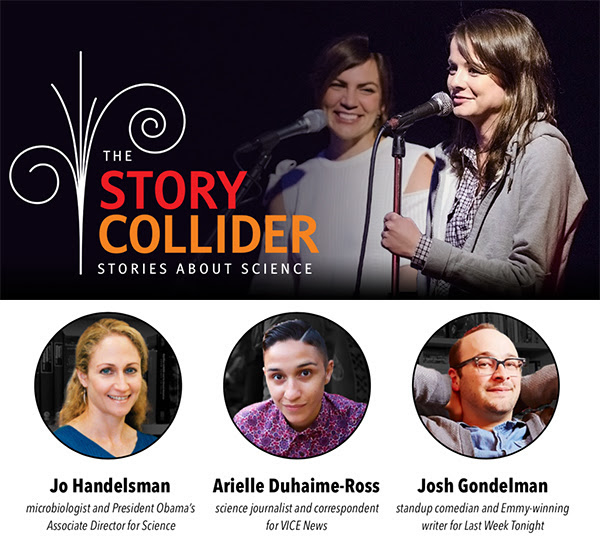 The Story Collider has expanded to produce regular shows in eight other cities and has partnered with dozens of publishers, scientific conferences, and universities, to produce one-off shows around the world. With this fundraiser, The Story Collider wishes to "raise money to find and elevate more voices and perspectives about science, answering a demand for shows in new regions of the United States and the United Kingdom." Per Executive Director of The Story Collider, Liz Neeley, "What we're doing is quietly radical," adding "within science, there are powerful conventions about who gets to be on stage, what they are allowed to talk about, and how. Our shows are deliberately inclusive and intentionally emotional. It feels magical. Best of all? We have data about why and how that magic works."
Whether it's from physicists, comedians, neuroscientists, writers, geologists, cops, doctors, bartenders, etc, this organization has a transformative story tell! Won't you come have a listen!?
Mentions: Doors 7pm. Get seats HERE, starting at $150-$300, including all food and beverages for the evening. Caveat is located at 21A Clinton Street on the Lower East Side of Manhattan (short walk from the Essex Street J/M/Z and Delancy F stations).