Quick Dish LA: THE BUSINESS Tonight at Little Joy with Brooks Wheelan & More!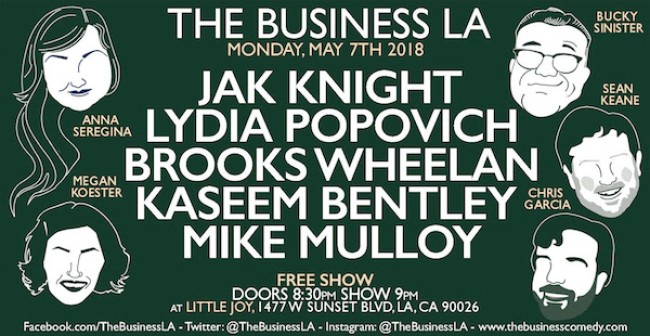 Could it be any more beautiful in LA right now? Goodness me, all this springtime goodness sure is distracting when you need to get work done. As we try to buckle down, perhaps it's good to keep frivolity within arms reach. TONIGHT at Little Joy come carve out a piece of mirth from the stone of banality at THE BUSINESS. This week the lineup is layer cake of comedy quality:
Brooks Wheelan
Jak Knight
Lydia Popovich
Kaseem Bentley
Mike Mulloy
with Chris Garcia, Sean Keane, Bucky Sinister & Anna Seregina, hosted by Megan Koester (Corporate)!
Be there, friends!
Mentions: Doors at 8p, Show at 9p. FREE! Little Joy is located at 1477 W Sunset Blvd., LA, CA 90026/