Tasty News: Ms. Snap is A Selfie-Obsessed 'Psycho' in This Exclusive Clip from TV Land's TEACHERS
In this EXCLUSIVE clip from tomorrow night's brand new episode of TV Land's TEACHERS, we find Ms. Snap (Katy Colloton), our favorite narcissistic teacher of the lot, getting in her 20 minutes of predominantly NSFW morning self shots. Mavis (Patricia Belcher), who holds all the cards at Fillmore Elementary, already has it out for the unruly educator, so this infraction will only make it worse for Ms. Snap's future.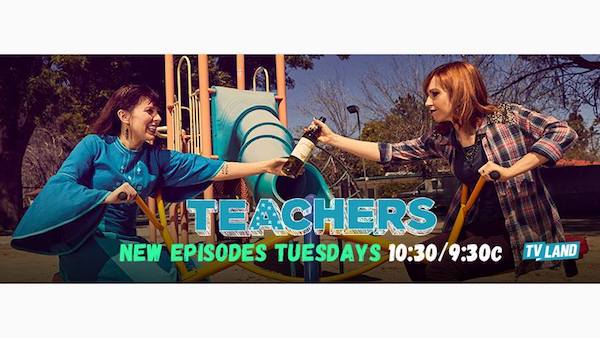 With a new principal at the helm, old principal on teaching duty, Ms. Feldman (Cate Freedman) in another country, Ms. Watson (Kate Lambert) in financial trouble, Ms. Bennigan (Katie O'Brien) carefully molding her relationship with Hot Dad, and a squatter free Ms. Adler (Kathryn Renée Thomas) juggling work and future motherhood, Season Three is proving to be a whirlwind of educator missteps and transitions. Watch this EXCLUSIVE clip of tomorrow's episode, kids, for even more educational jollies.
Mentions: Watch Season 3 of Teachers Tuesdays 10:30/9:30c on TV Land. More info HERE!