Quick Dish NY: BACKYARD SHOW Presents… Back Sweat (It's Hot as B*lls) 7.16 at Pine Box Rock Shop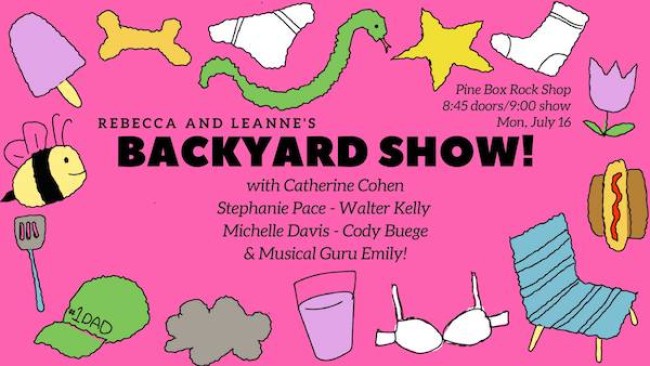 Hey kids, we made it to the end of the week. We deserve some sort of prize just for our heat tolerance, right? (Yeah, I know you are spending a lot of time at the movie theatre just for the A/C.) Monday, July 16th at the BACKYARD SHOW, not only will there be plenty of variety, but it's now coming at you on a MONTHLY basis. 1-year-anniversary roommates Leanne Velednitsky and Rebecca Weiser brave the dog days of summer with NYC's best comedians, celebrities, BACK SWEAT sheen, and, of course, inanimate objects! Check out this glistening lineup:
Michelle Davis
Cody Buege
Stephanie Pace
Walter Kelly
Catherine Cohen
Musical guest/guru: Emily Erickson & Friends (Trevor Bunce)
Don't miss out!
Mentions: Doors & Music at 8:45pm, Show at 9:00pm!. Pine Box Rock Shop is located at 12 Grattan St, Brooklyn, New York 11206.