Tasty News: THINK FAST Because Cincinnati Comedian MARK CHALIFOUX's Debut Comedy Album Officially Drops TOMORROW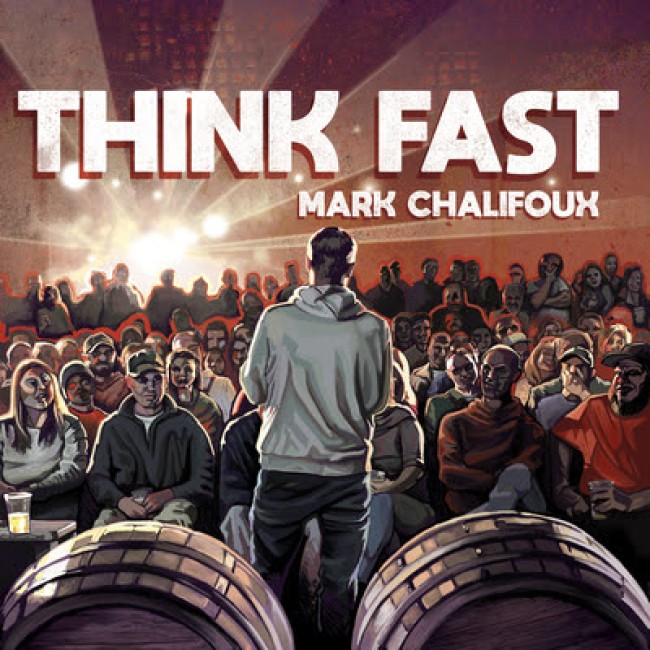 Kids, TOMORROW out of the heavens drops the debut album from Cincinnati comedian MARK CHALIFOUX and we can't wait for you to wrap your earholes around it. The College Humor deemed "hilarious up-and-comer" has been featured on Fox and IFC, the "Bob and Tom" show and BBC radio. We'd emphasize the HILARIOUS part. Whether you're a family person or not, THINK FAST will have you rolling off the sofa with a proper belly ache of laughter. I've been lucky in that there have been a steady stream of high quality albums that have been presented to me on a gold platter lately (or at least that's the way I dream about it) and this one is right up at the top. The album is produced by Audible and will be released, as we mentioned before, TOMORROW August 17th. (She keeps saying that).
Recorded at Go Bananas in Cincinnati, Think Fast is a non-stop bounty of questionable parental advice and curated anecdotes that pack a comedy punch. Just some of the highlights I'm still giggling about include the "favorite child" conundrum, motivating a kid to excel in sports, highly embarrassing pumpkin carving, being a cyberbullied adult, "King of Summer" karma, a marriage proposal gone amuck, and a mistaken family group text thread turned viral Gofundme campaign. Hey, you named the majority of tracks on the album. No, I didn't, but it really is that good. Get your hands on this album as soon as possible.
Mentions: Think Fast is available on Audible TOMORROW. Pre-order on iTunes RIGHT NOW! Learn more about Mark HERE.