Quick Dish LA: TOMORROW The Live BAD RECEPTION Release Show at UCB Sunset
Eh, what did you say? Oh, new Audible original comedy + release show this weekend? Got it! If that wasn't clear, BAD RECEPTION is an entirely improvised comedy AUDIBLE ORIGINAL, that is set entirely, wait for it, on the PHONE. The show, created and directed by Justin Michael (Cartoon Network's Infinity Train writer) and narrator Eric Martin (Maximum Fun's Bubble director) and presented by Audible Originals and Audible Comedy, stars a cast of over 40 top comedians and improvisers including Paul F. Tompkins, D'Arcy Carden, Kyle Mooney, Lauren Lapkus, Nicole Byer, and more. The unscripted comedy of thirteen acts takes place in South Grampers, California, of course, the "Movie Theater Butter Capital of the World." The town is forced to launch their own festival do take care of some cash deficit problems. However, an unexpected sequence of events leads to an extreme situation known as… "The Incident." There's only one soul that can expose the bubbling truth and , spoiler alert, he's not in the know yet.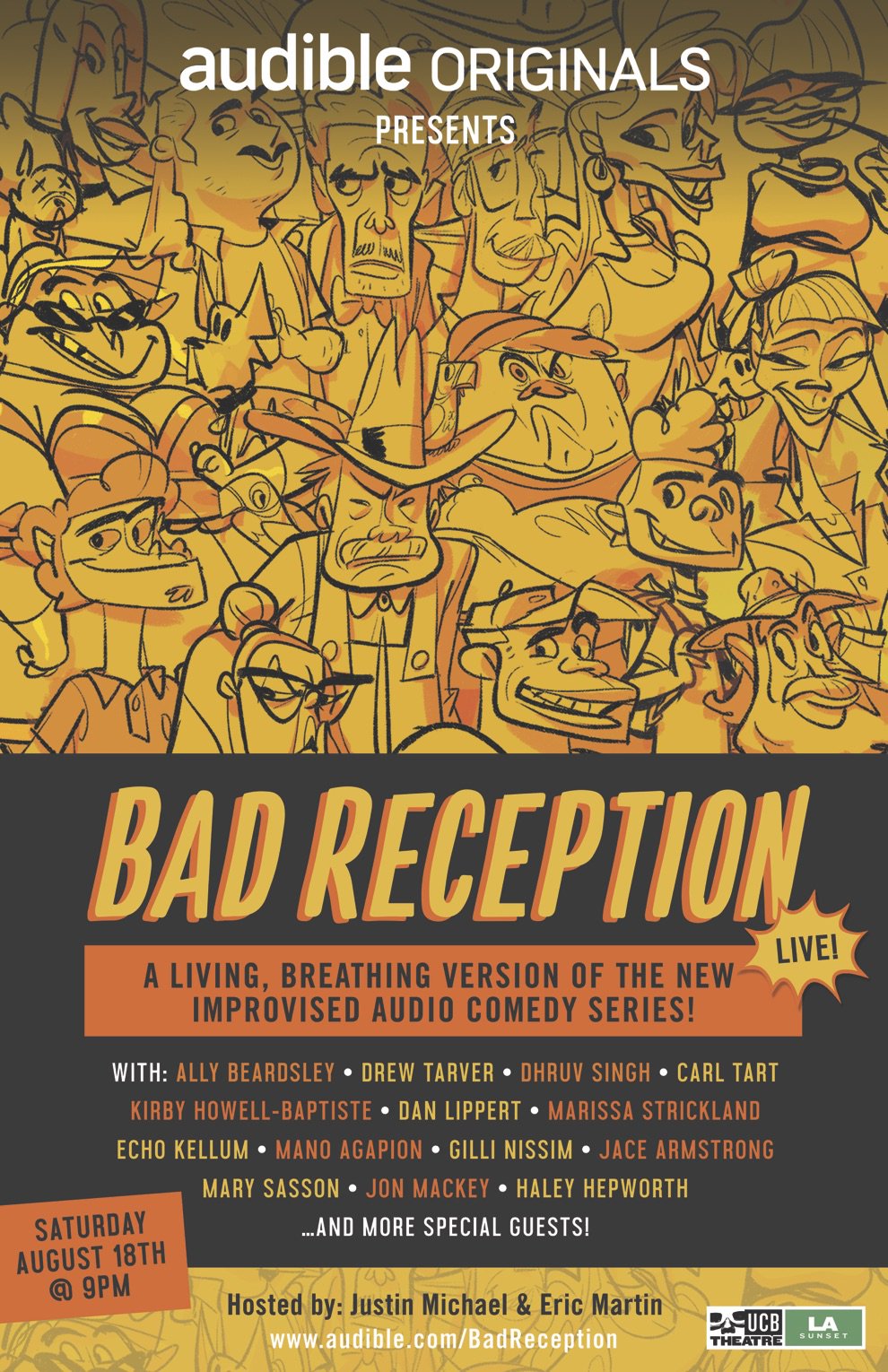 The official release date is August 21, but TOMORROW at UCB Sunset, you can celebrate that release with the the cast and crew at the live show in Los Angeles. Expect appearances and performances by
D'Arcy Carden (The Good Place, HBO's Barry)
Betsy Sodaro (Netflix's Disjointed, Bob's Burgers)
Carl Tart (Brooklyn-99, IFC's Brockmire)
Kirby Howell-Baptiste (BBC America's Killing Eve, HBO's Barry)
Dan Lippert (Big Grande's The Teacher's Lounge, Workaholics)
Marissa Strickland (Happy Endings, ABC's Lady Time)
Echo Kellum (Arrow, Rick & Morty)
Mano Agapion (Bajillion Dollar Properties, Earwolf's Spontaneation)
Gilli Nissim (Comedy Central's The Other Two, We're Gross with Gilli Nissim)
Jace Armstrong (Nathan For You, IFC's The Birthday Boys)
Mary Sasson (UCB's Winslow, Fullscreen)
Jon Mackey (Big Grande's The Teacher's Lounge, Funny or Die)
+ more guests to come!
Glowing toxic waste be damned! Don't miss out!
Mentions: Show 9pm. Tickets HERE. UCB Sunset is located at 5419 W Sunset Blvd, Los Angeles, CA 90027. Pre-order HERE. Logo by Roxy Radulescu and Rustam Hasanov.