Quick Dish NY: TRUTH SERUM 10.25 at QED in Astoria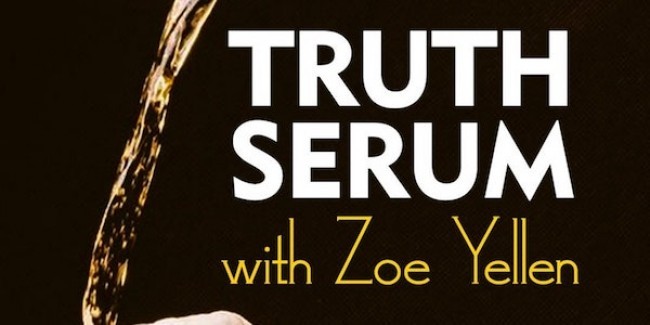 We made it to Friday! (Never mind the weather predictor lied to us AGAIN!) Hug your puppies and kittens and start planning your future laughs. You can start of by adding TRUTH SERUM to your calendar Thursday, October 25th at QED. Every 4th Thursday of the month, you can catch host Zoe Yellen with three of her most daring friends taking on the most outlandish tasks and answering trivia questions. The show offers New York City's best stand-ups, improv, and sketch comedy groups in between mad-capped rounds. Also, audience involvement and alcohol consumption is highly encouraged. This month the lineup includes:
Stand Up from
Maggie Lalley
and Special Guest, Harrison Greenbaum
Improv from
Shann n Shobes
Game Show Contestants
Hannah Berry
Chris Stewart
Bryor Mosley
Hosted by Zoe Yellen
The truth will be told! GO!
Mentions: Show 9PM-10:30PM. Admission is $7 (online or at the door). QED Astoria is located at 27-16 23rd Ave, Queens, NY 11105. Between 27th St and 28th St. [Closest public transportation: N/W Astoria-Ditmars Station.]